The un-siloed quest for integration
Whether from beginnings as a media-agnostic, digitally integrated agency or from a silo-heavy global network, creative houses across Canada still grapple with integration. How agencies approach the problem of meshing different creative disciplines.
By Megan Haynes & Grant Surridge
In today's rapidly evolving media world, where control of the message is shifting into the hands of consumers, most agencies offering a wide suite of services recognize that integration – making all media channels work together seamlessly – is still easier said than done.
The proof that integration works is in the creative pudding, so to speak. This year, strategy's top three Agency of the Year winners, DDB, John St. and Taxi, also took top places in Digital AOY, and each named their integrated models as the source of their creative juices.
Even DDB (which still has divisions between its design, social media and digital team) points to its strong inter-agency communication, central profit and loss (P&L) structure and collapsed account services group as the key to integration.
"What it has to feel like [for a client] is not that I'm dealing with six different people with six different companies, but that I work with a bunch of people who work with my interest front of mind," says David Leonard, president and CEO, DDB .
Each agency faces different challenges to get to that point. DraftFCB, Cossette and Y&R are structually addressing integrated growing pains, while MacLaren McCann has taken a longer-term approach to breaking down walls. TBWA\Toronto, on the other hand, faces the challenge of integrating globally, which speaks to its roots.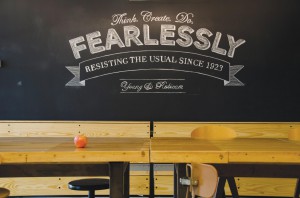 The original anti-silo agency was the legendary Chiat\Day. Founded in 1968 by Jay Chiat and Guy Day, the agency became one of the first companies in any industry to pioneer things like the open-concept office and a flat hierarchical structure with few job titles. That approach led to some famous creative, such as Apple's Super Bowl television spot "1984."
In the mid-1990s Chiat\Day merged with what was seen as the more staid TBWA. Current TBWA\Canada president Jay Bertram worked with Chiat\Day in the early 1990s and can remember when the agency would fine people five dollars for saying the word "department." The new entity carried over some features from its insouciant predecessor, including the flat hierarchy and commitment to root out so-called silos that separated the digital or design specialists from their peers in traditional creative. "Whenever I hear the word department, I still make a big scene," says Bertram.
The idea that physical proximity breeds creative flow between disciplines can be seen on the sixth floor of the TBWA\Canada office today, home to half the agency's employees, or around 50 people. What Bertram calls the "creation floor" houses all the TBWA's digital designers, creatives, social media people and production types. "It works incredibly for our clients because our creative people and developers can look at one computer, work together and get a problem solved versus putting it on another floor or sending it to another company," he says.
Having that digital expertise in-house, working alongside the copywriters and art directors, allowed TBWA to complete technically challenging executions such as the 3D holographic water animation for Nissan's 2013 Altima launch during Canada Day fireworks celebrations this summer, as well as augmented reality advertising that complemented the mass campaign in major Canadian newspapers.
Now TBWA is attempting to move integration beyond just one office or agency in one country. In 2009, Omicon Group, the holding company that owns TBWA\Worldwide, merged it with U.S.-based standalone digital shop Agency.com. Just one year later Agency.com was dismantled and from the remnants of that operation has emerged TBWA's Digital Arts Network, which was created this summer. The reorganization of some employees sees 700 of TBWA\Worldwide's digital specialists grouped into a network of 19 offices – including the one in Toronto.
The idea was to give local clients access to the agency's digital expertise no matter where in the world such expertise is located.

"We don't have this kind of in-built DNA that there's a head office or one office is better than another," says Bertram. "It's very easy for us to work together in any country."
Neal Bouwmeester, senior marketing manager at TBWA client Nissan Canada, recognizes integrating traditional creative and digital remains a struggle for agencies, and says anything they are doing to improve that process is welcome. "The nature of advertising today is you've got digital, social media, mobile, and you've got intersect points with all of those with traditional mass campaigns," he says. "You definitely have certain agencies where you have no idea what size of team they have and whether or not they have those capabilities."
Cossette's EVP managing director Andrew Bergstrom says having silos was a way of showcasing that expertise, pointing to earlier in the decade when agencies tried to buy their way into the digital space as a tipping point towards siloed structures. Bergstrom says Cossette basically wrote the book on expansion through silos, with Fjord (digital) and Blitz (direct) as examples.
The independent Canadian agency, which once divided off (and silo-branded) all specialties to create a cross-Canadian creative network, committed to breaking down walls – both figuratively and literally – in a very strategic manner, beginning in 2008.
"[Before, silos] might offer a point of difference because you could offer more services than another agency, but at some point, when every agency [has] every service and the lines have blurred, suddenly talking about [that] is no longer a point of difference."
He says shifting media habits, blurred lines between traditional and digital media, and of course, client demand, pushed forward the integration model. Brett Marchand, president and CEO, Cossette, takes it a step further, saying the silo way of doing business complicated things, which became apparent after the agency hired a consulting firm to interview current and past clients, as well as clients which Cossette had pitched and not won.
"It was a very eye-opening experience for us," Marchand says. "We were getting average marks for integration. As we peeled away the onion, one of the things we found out was integration – as defined by clients – wasn't about one big idea anymore. It was about ideas that could travel through a lot of different channels, and that was getting more complex for clients. And we were structured in a way that we had nine or 10 different leaders and agencies around the table and frankly, our structure was not efficient."
Cossette client Alan Hurst, director of corporate advertising and merchandising at BMO, concurs, saying having to go to the various level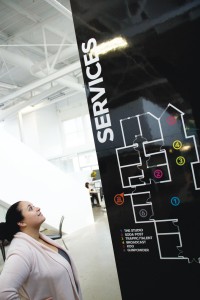 s created a disconnect between branded campaigns. For example, direct and digital, he says often felt like an afterthought from the mass message.
To revamp the agency, Bergstrom says in 2009, they first declared all staff were "People from Cossette," a mental shift in the way staff were to view themselves. While they might have different crafts (and as a result, work for different branded divisions within Cossette), they were first and foremost Cossetters, he says. In 2010 came the hard work of rejigging the organization, blending teams, and collapsing and amalgamating separate brand entities like Fjord and Blitz. The agency also moved to one P&L, changed the reporting structure, and implemented mandatory training sessions on how staff should work together.
This year, they cap off the new philosophy with the move to new open-concept digs in Toronto's Liberty Village. The '70s inspired yet modern office, once a munitions factory, gleams white, with a painted wooden roof, glassed-in boardrooms, giant skylights, and – of course – open concept desk arrangements. The second-storey mezzanine looks out over the creative employees, which for the first time are seated together, regardless of specialty.
The overall holding corporation  Vision 7 International still maintains different divisions between some of its properties – such as Jungle Media and Dare, which handle media buying and digital respectively, and are part of Vision 7′s international arm, Esprit de Corps Communications. This allows the company to offer entry points for clients only looking for one or two services. And while the entire Vision 7 network is technically housed under the same roof,  these divisions work completely separately from Cossette sharing only core services in the new building, such as IT and admin staff.
Bergstrom admits that some staff didn't like the new way of business and left. But the benefits far outweigh the few deserters.
He says higher employee satisfaction scores and more fluid and media agnostic campaigns are positive signs, and just the start of work to come, adding surveys conducted with clients show satisfaction has increased significantly, as much as 40% with some. It's a better client experience, Hurst says, as they aren't managing multiple agencies doing multiple types of work. "For an organization of [BMO's] size, it's a great way to ensure the brand is protected."
This thought has been echoed by clients working with various agencies, such as MasterCard, which works with MacLaren McCann. "I don't want to be dealing with all different divisions of the agency," says Lilian Tomovich, VP marketing, MasterCard Canada. "In the past, there'd be one creative director leading the digital side, one team leading the brand work and another leading the momentum work. And so clients are saying 'time out! Figure out the back house. I want to see one set of work coming through my doors that's consistent.'"
She adds that, "very quickly you start seeing a difference in the execution and quality of the work because you've got all these different creative directors interpreting the brand strategy in different ways."
As a result of pressures from clients, as well as an overall mindset that agencies should be more integrated, Doug Turney, president and CEO, MacLaren McCann, says it has been slowly moving towards a more integrated model, switching to a client-focused P&L in the late '90s, hiring specialists who can think across different media, and, almost 10 years later in 2008, housing the creative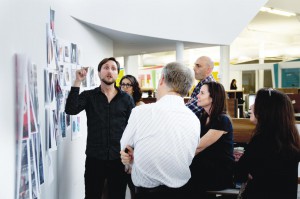 team all on one floor.
He likens this evolution to learning a second language – a slow process where you pick up key phrases over time, slowly building your integration vocabulary.
"There is a point you get to, where all of a sudden you wake up and you're thinking in the other language," he says. "That is where we have to get to – where it becomes intuitive."
Tomovich says she's already impressed with the change, pointing to the recent Silver B!G award-winning campaign, "The Social Interview," as a prime example of what can come out of a more integrated shop.
The digital-intern hiring campaign, which drove wannabe-employees from OOH to Facebook then to LinkedIn and Twitter, has since been picked up globally, and is one of MacLaren's most awarded campaigns ever, says Tomovich.
Turney says MacLaren isn't fully integrated yet – that there's still plenty of work to be done. Mike Halminen, SVP creative officer, says they are playing with adding coders to the traditional art director/copywriter teams. And while the agency continues to struggle with old habits and attitudes towards structure, Turney is confident in the future of the agency, which just experienced its two best years in terms of revenue and is being looked at as a model for the McCann network.
"We're at the point now, where we're digital all the way through," Turney says. "It's part of our DNA."
An integrated model also has the ability to break down creative walls. When CCO Israel Diaz joined Y&R in February 2011, he took a metaphorical sledgehammer to the Toronto office.
The mandate from his bosses was straightforward: boost the agency's creative profile. He encountered a setup where teams of creatives with a copywriter and an art director would come up with an idea and then hand it down the line to digital people to work on. "What that created was different teams with walls between them and there wasn't much sharing. It was very fragmented," he says.
He collapsed the entire system in Toronto under one creative department so there were traditional writers and art directors working with their digital counterparts, as well as graphic designers and technologists all in the same group. Smaller teams made up of all these elements now float between the creative directors and account managers who deal directly with clients. "If we were to stay with our old model we'd have teams making TV ads and teams making banner ads and nobody talking and trying to craft it all together or innovate," he says. "Let's stop thinking of this as separate tasks. It's one task, which is to solve a big problem."
While Y&R is a global network of agencies, each spoke in the hub tends to act as its own boutique, says Diaz. There was no directive from on high to restructure the agency wholesale, and he describes the changes he's made as a local initiative.
Susan Murray, EVP and chief marketing officer, Y&R, says the agency's way of thinking about organizational structure swung like a pendulum over the past two decades. "The silo approach may have a place at some agencies today but I don't think it's the optimal approach for us," she says. When teams started showing up at clients' offices with both digital and creative account people as well as regular and digital creatives, she says "it began to get silly."
"We did some physical changes [last year] and took out many workstations and created a big common area and got a couple of tables that are made of old bowling alleys that can be wheeled around. We also put in stadium seating like you would s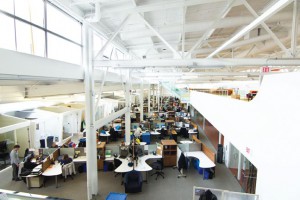 ee in a gymnasium," says Murray "Everybody is encouraged to gather there and vet things at the table." At Y&R, why sit around a boardroom when you can sit on bleachers?

Murray says Y&R used the new philosophy (relying heavily on collaboration) earlier this year in building a successful pitch for part of Pfizer's Canadian nutritional and vitamin business – the brands Centrum and Caltrate.

Like Cossette, Toronto's Draftfcb chose to culminate their integration odyssey with a physical move. After a global restructuring in 2006 that merged Draft (a direct mail shop) and FCB (which traces its roots back to the world's third oldest ad agency, and "the father of modern advertising" Albert Lasker) into one, locally the agency has moved towards integration and breaking down physical barriers. Alongside its sister-firm Rivet, the agency settled into new premises in Toronto's Liberty Village neighbourhood in April.

Restored from an old General Electric light bulb factory, the space is designed around both agencies' integrated operating models with an open-plan concept that encourages interaction between teams.

"We are an integrated agency with all the disciplines under one roof. We have a model that has no silos or profit centres, so it became a challenge to work this way in our previous space consisting of hallways and closed-off offices," says John Boniface, chief operating officer, Draftfcb. "We now have our entire creative and production services group and planning on one floor with the intention of increasing collaboration."

Whether it's easing clients' woes or boosting creativity, Diaz acknowledges that many agencies now boast about running fully integrated shops, but that the reality can be quite different. "I know integration is the buzzword that's been around for a little while," he says. "But I think everyone is struggling to find the right way to configure their shop to adapt to what's happening out there."