Target Canada kicks off the giving season
The retailer has launched its first charitable program in Canada, which will see a portion of its profits go to local communities.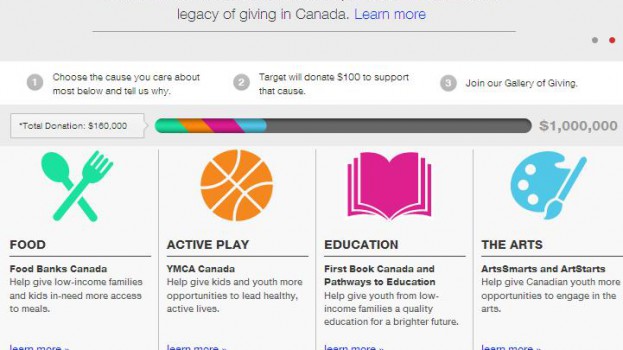 'Tis the season for giving, and Target is getting into the spirit of things with the launch of its first charitable initiative in Canada.

From today and until Dec. 9, Target ask Canucks to help to raise $1 million, which will be divvied up between six different Canadian charities including ArtsSmarts, ArtStarts, YMCA, Food Bank Canada, First Book Canada and Pathways to Education. The "Give with Target" program, created by US-based AKQA, is housed on Facebook and for each person that selects a cause on the page, the retailer will donate $100 to that charity.

Derek Jenkins, senior VP of external relations, Target Canada says the retailer doesn't want to give Canadians a cookie cutter version of its fundraising programs in the U.S. "We've been spending the better part of a year [researching the market] just trying to make sure that we understand what our giving strategy should look like in Canada," he says.

Jenkins explains that since 1946, the American retailer has given 5% of its profit to support local communities. "So it's really a continuation of that, and we just want to make sure that the right priority for us is Canada," he says, noting that the four areas Target will be directing its efforts include active play, arts, food and academic achievement. Whereas in the U.S., he says, the retailer usually supports causes  in the areas of volunteerism, education and social services. "We're [attempting] to get a bit more data through Facebook and through some of the comments by province, which will help us determine more of a national as well as local strategy."

"Because giving is a part of our legacy – it's a part of our fabric of who we are – we want to let people know that we plan on being part of the community," he says, adding that the retailer will be promoting the program to a following of more than 400,000 followers on its Facebook page as well as though its Twitter page (of which it currently has over 4,000 followers).