Target spreads the holiday cheer
The brand is launching the latest in a line of experiential events later this week, travelling from the East Coast to West.
Target is back at it with another experiential event, touring the country starting on the East Coast this Friday with the Target Holiday Road Trip, giving Canadians a preview of what they can expect from the brand starting in March/April of 2013.
Working with Mosaic, the caravan kicks off in Halifax with an event from 3 p.m. to 9 p.m. at the Dalhousie University Club, featuring holiday stories read by Canadian celebrities like Gordon Pinsent, Shaun Majumder and local children's favourite, Razzmatazz for Kids.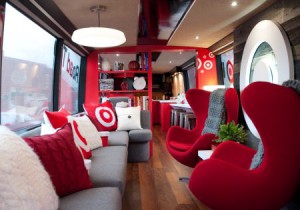 Stopping in over 20 spots across Canada, and ending the caravan holiday tour in British Columbia in mid-December, Canadians can watch the tour's progress and check out schedules and a photo scrapbook of past stops on the brand's Facebook and Twitter pages.

"Canadians are aware of Target but they might not know a lot about the company," says Livia Zufferli, director of marketing, Target Canada. "We find these experiential events give us a good way to tell the story in a one-to-one way. They can feel and experience what is a differentiator of the Target brand, which is the fun and what we call the 'Target wink'. We think the best way to do that is for Canadians to have the chance to experience that first hand."

The Target Holiday Tour is the latest in a series of experiential events the brand has been hosting ahead of its 2013 launch. Earlier this year, Target launched beach-centric events with pop-up events in Ontario, British Columbia and Alberta and it got glam for the Toronto International Film Festival with the Target Hotel in Toronto this September.