Red Bull's playgrounds
The energy drink company creates an app that helps users scout local sports and entertainment spots across Canada.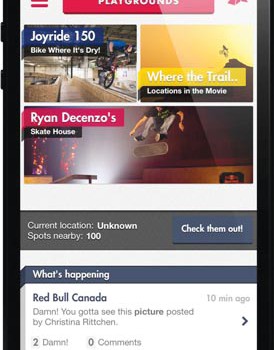 Playing into Red Bull's extreme sports connections, and its own sports-related content, the brand unveiled a new app to help users scout local sports and entertainment spots across Canada.

The Red Bull Playgrounds app, created with Secret Location, allows users to share content with friends and add favourite locations to the map.

"We've been producing events and supporting the leading athletes across snowboarding, skiing and skateboarding, so we have very deep ties to all of these communities," says Lubor Keliar, director of comms, Red Bull Canada.

Red Bull has tapped sports pros, including X Games star Ryan Decenzo, to design venues such as an indoor skate park in Toronto called The Skate House.

"What's been missing is a way to capture where these communities play, and a social platform to share the best spots, images and videos," says Keliar.

Media was handled by Touché!PHD, with Red Bull using various digital networks, including Redbull.ca, YouTube and Red Bull TV to create and distribute content.

Ads have been placed within the app, and sports publisher SBC, mountain biking outlet Pinkbike and Vice Media have also partnered to contribute additional content, including sports and entertainment spots.