Marketer Survey 2012
A year's worth of insights gleaned straight from Canada's top marketers.
How has the marketing world changed in 2012? Well, a year ago we didn't have Instagram in our survey. Last year, shopper marketing had just started to assert itself and now it's the big buzz, and mobile has also gone from theoretical to something that can't be ignored.
This year, the outlook is sunnier and the world is more social. So does this mean the tough financial times are finally over? And why aren't more of us on that Instagram thing? Read on for a year's worth of insight.
Click here for a PDF of the survey.
This year's survey asked approximately 200 Canadian marketers about the state of their nation. While some things stayed the same, like work/life balance being the biggest job stressor (despite the fact that 55% of respondents said they work a reasonable 41 to 50 hours a week) and ROI pressure remaining the biggest issue facing the industry, there was still plenty of new data to mull.
Respondents once again skewed female (67%), with the majority (65%) aged 26 to 45. The most common title was VP or director of marketing, with 25% claiming to make $101 to $150K (22% made $56 to $75K and 20% made $76 to $100K). Salaries generally experienced an increase, with 59% getting a raise of up to 20%, while 20% stayed the same and 18% got a big boost (of over 20%).
When it comes to budget, most stuck with the status quo, with 45% responding that it hasn't budged, while 37% claim it's increased up to 20%. Only 11% experienced decreases of up to 20%.
Mobile gains momentum
Social media is still the leader when it comes to where marketers are increasing their focus, but two factors have slowed its rise. First, many brands are now fully entrenched in social (just look at how many are on Facebook and Twitter on p. 33), and second, other areas are gaining speed. The most noteworthy is mobile, with an 11% jump.
"We're seeing more and more of our clients take that first look at mobile," says Derek Bhopalsingh, VP, managing partner of MEC Interaction, the media agency's digital, search and direct discipline arm. "It's becoming essential within the marketing communications mix in [Canada]."
Bhopalsingh says MEC client Molson Coors is at the forefront of making mobile its main pillar of communications planning with apps like a branded patio-finder. He also pointed to Microsoft's recent giant tablet out-of-home installations as a good example of making mobile central to a campaign.
But while brands are showing more interest in mobile, they aren't necessarily backing those inquiries up with budget, yet. "We're getting a lot of requests for presentations and workshop sessions, and usually the money follows that," says Melanie Varley, chief global strategy officer, MEC.
Expect more giant tablets coming our way.
The rise of PR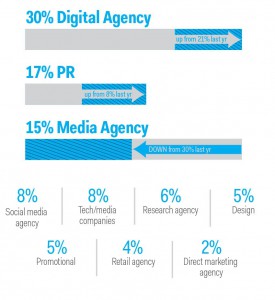 Move over, media agencies. While still a critical partner, media took a back seat to digital and PR agencies (both up 9% from last year) when marketers were asked which partners were becoming increasingly important to them.
There's no question that these days digital is top of everyone's minds, but why the rise in PR status?"I think our time has come. For a long time, PR teams both on client side and on agency side have been vying for that seat at the table," says Krista Webster, president of PR agency Veritas, which works with big brands like Target and the CBC. "Why has PR become the belle of the ball? Because they are seeing results, and a lot of those results are being measured [through social media], where you otherwise couldn't," she says. "Social media allows us to quantify something that we always knew worked but was very hard to [prove] offline."
Webster notes that social media has also diluted the conversation, making it more difficult to identify who the actual influencers are. This is where firms like Veritas come in. This year they implemented programs for brands like Subway, tapping multiple influencers, including the Canadian dietitian community, to redefine "healthy" based on each person's nutritional needs and tastes."It's not just that we think we have those relationships and think they might be right, we're tracking that they are," says Webster. "Sometimes who you thought was influential isn't."
Justin Kingsley, partner and head of the PR division at Sid Lee, says that a shift in both campaign expectations and PR practices are behind the rise."The big difference is how the strategic approach to a campaign has gone from needing a punchline to needing a hook," he says. "Now you need to hook your consumer right away, and PR people understand that. If I'm pitching a story to either a consumer or a reporter, I've got to get your attention right away."
Therefore, he says, the old ways of issuing press releases and holding press conferences are going the way of the 8-track. For examples of the new approach, he points to Sid Lee's work on the multi-platform London Olympics campaign for Adidas, which used real Londoners, and work managing UFC champ Georges St-Pierre's social presence.
"Classic PR is still about the old radiation – putting your message out on a wire and seeing who picks it up. The new PR is connecting with consumers and creating that interaction so that when they have something to say, it becomes a conversation," he says.
It's all about integration
If we had to choose a marketing buzzword for 2012, integration would be it. We've heard (and written about) many agencies changing their structures (and seating arrangements) to become more cohesive units.
And marketers are doing the same. Internally over the past 14 months, Campbell has integrated its brand and communications group with marketing to not only work more efficiently across the digital space, but be "more aligned with one voice," says VP marketing Mark Childs.
When asked which agency partner is becoming increasingly important to Campbell, Childs says, "I think the biggest change that we've seen is a much stronger integration of agency partners. So in the way that we work on a weekly basis, we have all of our agencies get together with the marketing team leads with Melanie [Rockliff, corporate brand and communications manager] and myself to actually talk through strategies and plans."
Working with many partners, including Weber Shandwick, 6 Degrees, OMD, BBDO, and now Mofilm for content creation (see story on p. 8), Childs says that who takes the lead depends on the initiative. For example, social media and blogging were key to the recent launch of Cracker Chips under the Pepperidge Farm banner, so Weber and 6 Degrees led the charge on initiatives that included a sponsorship of the BlissDom blogging conference in Toronto.
It's all part of an effort to become more "digitally fit" across multiple platforms. The company is also bulking up its internal team to better handle its robust social media presence, which includes many of the major platforms, including Facebook, Twitter and Pinterest.
"As a team we've always felt that our internal resources should really be the voice of Campbell. I know many of our peers have outsourced that, we have not. And I think that's helping us build the brand in the digital space," says Childs, noting that in the past year or so they've hired an expert in social media conversation and a digital marketing manager.
The social executive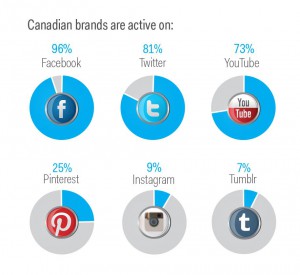 A study conducted in the spring by the Queen's University School of Business found that Canadian executives are active users of social media, with 82% saying they personally use it (LinkedIn being the front-runner). Yet while 39% of bosses say social media is a necessity for their company, and 35% say they use it heavily because it's a good opportunity for the business, 24% say it doesn't add any value. Further, only 17% believe it's beneficial in better understanding their customer (the top two benefits were increasing brand awareness at 39% and recruiting talent at 21%).
But some Canadian executives see the benefits of personally engaging in social beyond campaigns and LinkedIn recruiting. The CBC's VP of English services Kirstine Stewart is one of them.
"I can't imagine that many businesses couldn't benefit from some form of social media," she says. "I think it's important for people to understand that things are changing and social media isn't a fad, it's an additional form of communication that people are taking up and using quite regularly."
Stewart is a highly active tweeter, an activity she took up after seeing other execs she admired using the social platform with success.
"The first question I get asked is, 'Is that really you?'," she says. "I think it's really important that it be your own voice. I can tell when people have someone else writing for them and you're just setting yourself up to have a different kind of relationship."
Stewart says that if you're going to open yourself up to representing your brand in the social sphere, be prepared to respond to both positive and negative comments, however she's not about to engage in a lengthy debate on Twitter (which is difficult to do in 140 characters). And while she lets her personality shine through, she doesn't get too personal with her tweets.
Not bad rules to live by, considering that in the Queen's study, 91% of the executives polled said they believe that employees should be mindful that even on their own time they still represent the company.
2012′s Top ad spenders*
By category
1 Retail 12.8%
2 Automotive 12.3%
3 Food 7.4%
4 Entertainment 6.6%
5 Financial & insurance services 6.1%
6 Local automotive dealer advertising 5.2%
7 Restaurants, catering & night clubs 4.7%
8 Travel & transportation 4.4%
9 Telecommunications 4.1%
10 Real estate 3.9%
By company

1 Procter & Gamble
2 Rogers Communications
3 GM
4 Chrysler Canada
5 Government of Canada
6 Provincial Government Lotteries
7 Chrysler Consolidated Local Car Dealerships
8 Johnson & Johnson
9 Telus
10 McDonald's
*All data is for the first three quarters of 2012, courtesy of Nielsen.
All infographics by Sandra Tavares.