Breakout social media site of the year: Pinterest
The image-sharing website took the Internet by storm in 2012.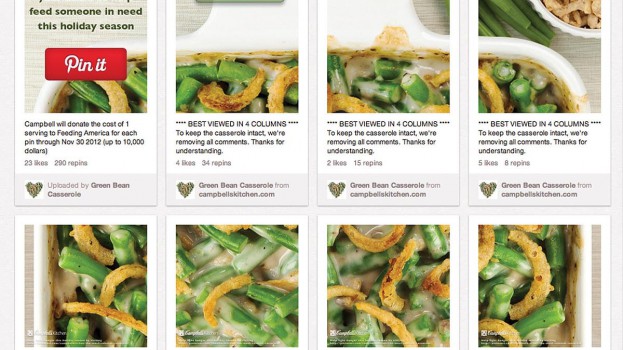 The image-sharing website Pinterest has fast become one of the hottest social media phenoms of the year. Its 11.7 million users (as of August 2012, when users still required an invite to join) download a bookmark feature they use to pin images they like back to their pages, which are then sorted onto boards around themes like fashion, food and travel. It is one of the top 50 most visited sites with more than 23 million unique visitors each month. According to a Canadian, U.S., U.K. and Australian study by Emily Carr University and research firm Vision Critical, one in five Pinterest users pinned an image of something they later bought, with more than half of those driving to retail locations to make the purchase.
Many brands have joined the social site, with media and retailers among the first adopters. In Canada, Lululemon is nearing 100,000 followers, while Joe Fresh, Roots and Aritzia each hover near the 2,000 mark.
Brands have also gotten creative, integrating Pinterest into marketing efforts, such as Campbell U.S. and Proximity Toronto's "Colossal Casserole" execution, which encouraged people to pin the company's most popular American Thanksgiving recipe, green bean casserole. Campbell donated a serving's-worth to Feeding America each time someone shared the recipe, says Tyler Turnbull, SVP strategy and insight, Proximity. What's more, for each pin, a serving (or rather a picture of a serving) of the casserole was added to a communal board that just kept growing. At press time, it sits at 3,650 servings, making it one colossal dish.
To make life easier for marketers looking to capitalize on Pinterest, the social site recently unveiled business accounts, which do away with the "First name, Last name" line on the sign-up page and add "Pin it" and "Follow" buttons for brand websites. Pinterest officials have said this is the first step towards more business-related offerings.