Marketers of the Year: David Grisim's golden year
The leader behind P&G's biggest multi-brand campaign for the Olympics tackles diversity and inclusion.
David Grisim didn't follow in the footsteps of his parents, nor was he guided by an aptitude test to pursue a marketing career. Grisim's moment of truth arrived when the phones at Mandrake Management Consultants (where he began his career as an executive recruiter) wouldn't stop ringing with inquiries about a former P&G marketer he had just interviewed. "They all wanted to meet him," he recalls. "That was when I realized the power of P&G marketers in the industry."
Since 1996, Grisim has steered customer business development at P&G Canada and first occupied the role of category brand manager for the company's total hair colour business, followed by oral care. His original plan, after departing from Mandrake, was to graduate from the University of Toronto with an MBA in marketing, land a starter position at P&G and move on to other challenges after a few years. Easier said than done, he says, admitting that he underestimated the pull of the company, its culture and the marketers he works with on a daily basis.
Over the years, Grisim moved between Canada and the U.S., working on the European and North America business, before settling north of the border in 2010 to co-lead (with fellow marketer Esther Benzie) the company's brand operations division. His job as P&G's associate marketing director entails "developing and centralizing all expertise in the marketing and delivery of go-to-market plans," which is a new development for the company. "Historically the company developed the entire market strategy [of each category] independent of each other," explains Grisim. "By creating a bigger brand operations organization [which handles multi-brand scale, shopper marketing and media for all P&G brands] we're able to create better [holistic] tools than we could if we did it by category only."
This evolution is best exemplified by P&G's "Proud Sponsor of Moms" Olympic initiative, the largest multi-brand campaign to ever come out of the company over its 175 years. It was designed to give props to the moms behind the athletes, and was the first time P&G went out into the market as a collection of brands with individual communications tied together under a common banner, says Grisim.
The CPG company donated $500,000 to fly the moms of Canadian Olympic and Paralympic athletes to London to see their children compete. Further, P&G launched a two-minute "Best Job" online video the same day (created by Wieden + Kennedy Portland), and received over 1.5 million views with one in three Canadians sharing the video with their social media cohort. "We realized very early on that people wanted to do something [more than] just sit on their sofa and watch [the commercial] on TV," he says, adding that by housing it online, consumers were able to pay tribute to their own moms by sharing the video.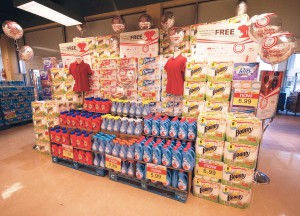 P&G spent 18 months planning how to get the promo inside the stores of partner retailers such as Shoppers Drug Mart, Walmart, Costco, Sobeys, Jean Coutu, Metro and Loblaws. On the surface, the in-store promotions seemed simple, giving away Olympic-themed merchandise supplied by the Hudson's Bay Company to customers who purchased P&G products, says Grisim. But the company further leveraged the asset by building a comprehensive in-store plan that resulted in the largest display, special pack and shelf presence of any program in P&G's history.
"It was about building joint value with [retailers] and their needs to build equity with their shoppers," he notes. "I think we made a step change in the way we roll up our sleeves and work with our retailers to co-develop the best ways to communicate with shoppers."
Juggling numerous in-store and media activations for the 30 P&G brands during the Games was no easy feat for Grisim and his team of 38. But the payoff, measured by a 35% increase in sales as a result of multi-brand scale programs and the uncovering of a collective insight (moms celebrated as the unsung heroes of athletes), made it worthwhile. "There's something about a universal consumer insight that gets the hair on the back of your neck to stand up," says Grisim. "When you can [find] something that really resonates and creates action, that's the kind of thing that gets me motivated. That's why I love what I do."
Grisim says he also takes pride in his involvement in leveraging diversity and inclusion in the workplace, from how the company recruits to its participation in the community. Each year, Grisim and P&G staffers organize events to raise money for the United Way and spend "days of caring" with members in community organizations.
He also sponsors a network of gay, bisexual, and lesbian employees (GABLE) at the company and participates in targeted recruiting events such as "Out on Bay Street" in Toronto where LGBTQA students, young professionals and organizations come together to promote change and openness. "I'd say that P&G, over the time that I have been working here, has made tremendous progress from being a pretty conservative Cincinnati-based company to valuing diversity in its broadest sense," he says. "Part of our overall efforts is to make sure that we're recruiting people who represent the full spectrum of our consumers. It's important for a global company to be able to represent the people that we serve more broadly."
The American-born marketer admits he's sometimes challenged with knowing when to step aside to free his staff to do their best work. "I have a sign in my office that reads 'mind your wake,'" he explains. "Sometimes as a leader I have to be cognizant that what may seem like a small request [for an employee], could end up resulting in a lot of work behind the scenes. Once the direction is clear and everyone has the capabilities, skills and training, I let them do their thing." Grisim works through this challenge by facilitating the company's mandatory "winning employee moments of truth" training program, in which he educates managers on how to improve performance through support of diversity and personal matters.
As for what's next, Grisim predicts more innovation and reinvention. Not just with product development, he says, but in how P&G goes to market and collaborates with its retailer partners.
"We're a large company, but we're still only a tenth of the size of the U.S., so we can be nimble, agile and flexible in meeting our customers' and retail partners' needs," he notes. "We will continue to maintain our commitment to innovation, diversity and inclusion, and collaboration with our retail partners. Whenever I think that we haven't done as much as we could in those areas; that's when I start to lose sleep."