Knorr began rolling out its global "What's for Dinner?" campaign in Canada last month and is already seeing growth and consumer and retailer traction. The year-long shopper marketing heavy program taps into the insight that by 4:00 p.m. daily, 75% of Canadians don't know what's on that night's menu and helps them solve that culinary conundrum, says Brenda Demers, marketing manager for the savory portfolio, Unilever.
"I know every day as I'm leaving Unilever I ask 'Ok, What am I having for dinner tonight?'" Demers says. "We want to provide solutions for that daily dilemma. It is a focused program, with a large portion in store."
The campaign by Ariad Communication and Integrated Marketing Communication, media from Mindshare, and social media by Edelman, is Knorr's largest shopper marketing program to date, and is designed to contextualize meal options built around Knorr products in the times and places that people are searching for ideas. It will be supported digitally through ads and a microsite, as well as on social media and a mobile app. The entire program targets anyone who might not have the skill or time to make an elaborate dinner (although it does skew heavily towards moms with kids). To that end the recipes are relatively simple and straightforward.
Permanent and semi-permanent displays continue to roll out across every major retailer in Canada, with infographics highlighting meal options and ingredient lists, which will be changed out seasonally based on holidays and available produce, she says. The large, semi-permanent shelves group together the Knorr ingredients required for each meal.
Online, digital ads, including homepage takeovers of some of the top Canadian food sites, drive back to the Whatsfordinner.knorr.ca recipe book, which provides a rotating list of meal options. "It's very consumer friendly, very visually appealing, very 'foodie,'" Demers says of the book, which is also available in as an iOS and Android app.
Ove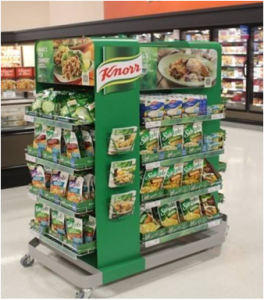 r social media, including Facebook and Pinterest, daily food options are seeded out to its 68,000 followers, who are also encouraged to submit their own meal ideas. A Facebook contest, which launched alongside the in-store displays in November and runs until Dec. 23, taps into the food photographer in all of us, inviting users to submit pics of what's on their plate that night for a chance to win a brand new kitchen.
While it's still too early for concrete results, Demers says they've seen category growth and high social media engagement, including 3,000 contest entrants. She says retailers have also jumped on the "What's for Dinner?" train, putting product ingredients on the Knorr displays together (such as placing a private label rice next to Knorr's Chicken Stock).