LCBO configures the gentleman's party
The retailer is using a rare digital-only campaign that features an interactive app to promote its premium spirits to guys.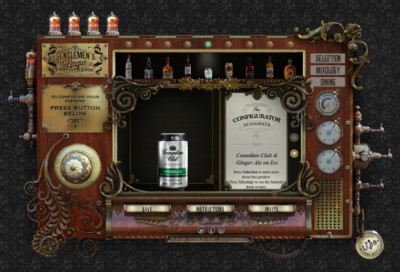 The LCBO is looking to help men become experienced and confident hosts with the launch of the Gentlemen's League Configurator, an interactive online app designed to give them tips on food and drinks to serve while they entertain.
Targeted at men aged 25 to 40, the Configurator promotes the premium spirit brands carried by the LCBO and offers drink recipes. The Steampunk-inspired app also allows users to send out invitations to their friends, and has secret buttons that unlock a few surprises.
With creative by Cossette and media by ZenithOptimedia, the app is supported by a digital-exclusive campaign that features display advertising across men's lifestyle, news and business sites, including Toro Magazine and Sharp.
Kerri Dawson, director of integrated marketing, LCBO, says the campaign is one of the first digital-only initiatives for the retailer, and a departure from its usual in-store campaigns, which target a wider range of drinkers.
She adds that the digital-exclusive approach was seen as the most effective way to reach men because they spend much of their time online.
The Configurator will be shut down Feb. 2.