Marketing budgets back on the rise
Employment in marketing rises rapidly in the Americas, says Warc's Global Marketing Index.
Brands are putting more marketers dollars into their budgets for the first time in eight months, the latest data from Warc's Global Marketing Index (GMI) suggests.
The GMI combines monthly responses from a global panel of marketers regarding trends in marketing budgets, trading conditions and staffing levels. A GMI reading of 50 indicates no change, and a reading of over 60 indicates rapid growth.
The index clocked in at 55 in January, its highest recorded value since last May. The Americas, which includes Canada, had the highest reading on a regional basis, coming in at 58.
"Positive budget setting in the Americas has lifted the index for global marketing budgets into growth territory for the first time since May," said Warc data editor Suzy Young, in an accompanying release. "But despite an improving outlook in terms of general trading conditions, marketers in Asia Pacific and Europe continue to scale back their budgets."
In terms of staffing levels, the global index showed improvement in January, especially in the Americas, which had a reading 61.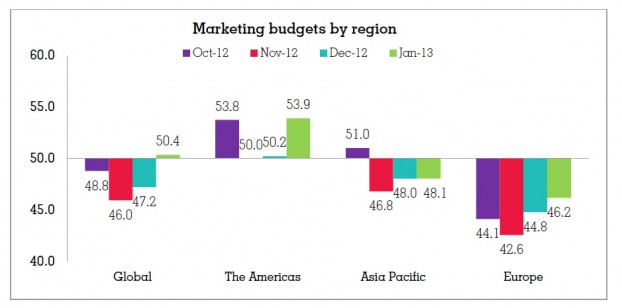 Graph courtesy of Warc.
Image via Flickr user Images_of_Money.