CASSIES Gold: BMW Canada's 1M launch
The car co recaptures its top performer status with thrilling high-speed videos.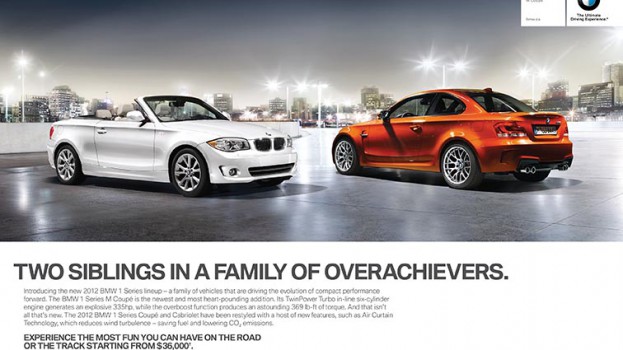 GOLD: Off to a Good Start
Situation Analysis Early in 2011, after several years of trying to broaden its mainstream appeal, BMW had an unclear brand essence and competitors were encroaching. Its foundation – performance and innovation – had to be recaptured, and the brand opted to use the 1 Series M Coupe to do it. But could the launch of a niche performance vehicle create aspiration and sales across the entire BMW lineup?
Strategy & Insight BMW had promoted the joy of driving for many years, and while this resonated with some customers, the brand's reputation for performance had slipped. This wasn't helped when Mercedes-Benz and Audi promoted their super cars to spur a halo effect that boosted sales of their higher volume vehicles. BMW's DNA is raw, exhilarating performance – supported by a rich, authentic history and racing heritage. While performance claims in the luxury automotive category had become commonplace, believability of performance belonged to BMW. The challenge was bringing this to life.
Execution The answer came in the form of jaw-dropping performance videos, released on BMW Canada's YouTube channel. "Walls" launched in June 2011 and showcased a BMW 1M drifting at high speed through 1M-sized holes in concrete walls. "Helipad" came shortly after, with the 1M circling the world's highest helipad – flirting with disaster as it drifted to the edge. A paid media plan was layered in, using cinema, online, magazines, OOH and elevators.
Results By year's end, BMW was number one in brand strength versus Mercedes-Benz, Audi and Lexus. The lead over the competition was the highest in all BMW markets globally. All 210 of Canada's allocated units were sold, many of them before the vehicle arrived, making BMW Canada the number one company worldwide for M sales as a percentage of total sales. And perhaps even more important, 2011 was BMW Canada's most successful year ever, finishing at number one in the premium automotive segment. The campaign exploded in the social media space with more than 10 million views, compared with numbers in the low hundred thousands for campaigns by Audi and Mercedes-Benz in the market over a similar time period.
Cause & Effect The case showed a direct link between advertising and the stellar sales performance.
Credits
Client: BMW Group Canada
Director marketing: Kevin Marcotte
Brand communications manager: Marc Belcourt
Brand communications specialist: Jonathan Thomson
Agency: Cundari
Chief Creative Officer: Brent Choi
Senior Writer: Brian Murray
ACD/senior AD: Raul Garcia
Writer: Alex Manahan
AD: Andrew Bernardi
Digital designer: John Filetti
Group account director: Daryn Sutherland
Account supervisor: Ranjan Gill
Production house: Bandito Brothers
Director: Mike "Mouse" McCoy
Dramatic audio: Jamey Scott
Line producer: Ryan Slavin
Executive Producer: Jeff Rohrer
Media: Media Experts, Kris Davis