Marketing's mobile-first future
Media buyers react to signs mobile is ready to realize its potential as an ad channel.
The Angry Birds are everywhere. The massively popular video game that has been downloaded more than a billion times on smartphones around the world symbolizes not only the exploding popularity of mobile gaming but the increasingly intimate relationship people enjoy with their mobile devices. When the game's creator said in late December it would make an Angry Birds 3D movie, it represented something of a landmark: a complete reversal of the traditional model of building a consumer products program from a popular film franchise.
In a presentation during New York's Ad Week last October, MEC's chief global strategy officer Melanie Varley cited the Angry Birds empire (which includes clothing and toys) as part of the first generation of companies that see mobile as the first consumer touchpoint.
But beyond a small group of companies built around a mobile-first strategy – like Rovio Entertainment (makers of Angry Birds) and the wildly popular photo-sharing service Instagram – are brands for which mobile represents a growing piece of the marketing mix. Varley says movie studios, retailers and any company with transactional opportunities like eBay, have become aggressive in the mobile space. For global clients like Paramount, MEC often creates a mobile campaign around the studio's content, involving spinoffs, games or ticket giveaways. "Mobile has become very, very central to the work we do," says Varley in an interview. "Paid-for media tends to then wrap around that."
Movie studios like mobile marketing because it targets a young, constantly plugged-in demo. And mobile can also help movies come to life right at the consumers' fingertips. Varley says the latest devices offer a "multi-sensory, immersive experience, involving video, animation, sound, vibration, tapping, swiping and pinching – something no other device can offer." When Paramount released Transformers 3: Dark of the Moon last year, it created mobile media ads that allowed people to watch exclusive trailers and download wallpaper for their device. Key from a transactional viewpoint was the ability to click through and buy tickets to the movie immediately.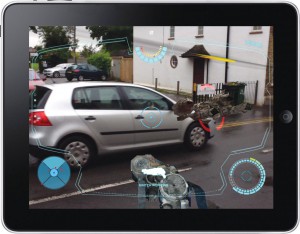 People could download an app called Transformers 3: Defend the Earth, an augmented reality game played by aiming a device's camera at the movie's promotional posters. The AR game overlaid the Transformers characters onto a person's physical surroundings and was downloaded more than 350,000 times. Paramount ran a similar campaign for Madagascar 3, integrating film characters into the popular Talking Tom Cat app.
In the Canadian market, MEC Interaction VP and managing partner Derek Bhopalsingh says client Molson Coors has made mobile a main pillar in its communications planning with apps like a branded patio-finder. He points to Microsoft's recent giant tablet OOH installation, featuring the Huffington Post app, as a good example of mobile marketing.
Brands want campaigns that can be used across a number of different platforms – creative on a billboard that can also be viewed vertically on a smartphone screen for example – as opposed to platform-specific executions like mobile-phone coupons, says Claude Carrier, president of DentsuBos Toronto. He says clients now look to mobile out of practical necessities rather than a desire to be on the vanguard.
For example, DentsuBos client Toyota Scion starts much of its strategic thinking around mobile devices. Creative is optimized for the mobile experience first because the brand wants to reach younger, digitally native consumers. And if a brand doesn't have the ad budget for extensive television buys but still wants to do video, creative that can live both on larger screen computers and smaller smartphones makes sense.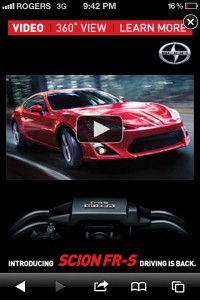 As more advertising dollars move to the mobile space, media agencies must evolve. Varely says within two years its top 10 to 15 geographies will have a mobile strategy team or strategist in place. Andy Wasef, head of mobile and emerging platforms at MEC, leads a team of seven people in New York devoted to mobile media planning and other emerging technologies such as radio-frequency identification (RFID) and NFC. Just two years ago, the team consisted of him alone.
Bhopalsingh says MEC employs integration specialists in Canada but does not yet have people devoted strictly to mobile, though they liaise with the New York team.

Carrier echoes this sentiment, saying it no longer makes sense to employ two different people to plan media for an audience that watches TV at home during primetime and another audience that watches the same content on their smartphone. "Everyone that we're raising as media planners now have to run the gamut," says Carrier.

The emergence of mobile as a major marketing channel has been around the corner for years. But difficulty in serving compelling messaging on small screens, a dizzying array of options when it comes to placing ads and the lack of an agreed-upon measuring system has stalled ad spending.

While the overall amount of money advertisers spend on mobile remains relatively small, the widespread penetration of smartphones and tablets, surging popularity of apps and social media channels like Twitter, Facebook and the music-streaming service Pandora are making mobile a more viable option.

"There's been an evolution, that's for sure," says Patricia Gray, director of digital solutions, Media Experts. She says many of the issues that previously plagued mobile are being resolved. Ad formats have grown from small banners to uniform smartphone screen sized ads that can take over the display or appear between page loads. Users can now watch video, play games or tweet directly from mobile ads. Moreover, audience size has grown to the point where there is now enough inventory to make real-time bidding a reality.

Media agency Carat employs a dedicated digital team in Canada staffed with people who focus more on mobile. VP digital media and brand experience Geneviève Guay says her agency has seen increased investment in mobile. She sees big opportunity among native applications such as calendars and cameras. "Campaigns that use the native function of [phones] are great. We don't see a lot of click to calendar and I think it's a function we should use more often," she says.

Agencies devoted solely to mobile have sprung up around the world. RingRing Media was a small agency focused entirely on purchasing mobile ad space for clients before it was bought by U.S.-based Amobee and integrated into its business. Varley says there isn't yet a profitable business focusing solely on mobile media buying and planning but she expects change within two years. "We're getting a lot of requests for presentations and workshop sessions, and usually the money follows that," she says.

A big challenge moving forward is understanding how mobile has changed the consumer journey. While the time people spend with their phones is soaring, buyers must understand how mobile interacts with other digital connection points, like time spent at a desk with a PC or on the sofa in front of the TV.

As more people carry smartphones it means every media channel becomes multi-dimensional – even transit ads and magazine spreads come to life through QR codes, RFID and NFC technology.

Inferring when consumers are most receptive to brand advertising is the next objective. "Our goal is to become more effective at engaging people in those pockets of time when the mobile is out and they are waiting for a bus," says Media Experts' Gray. "We know how to put mobile ads in front of the right audience for the right price. Now we need to make sure we are picking the right time and providing the right hook."