NFC tagged as trending
The technology is poised to break big in 2013.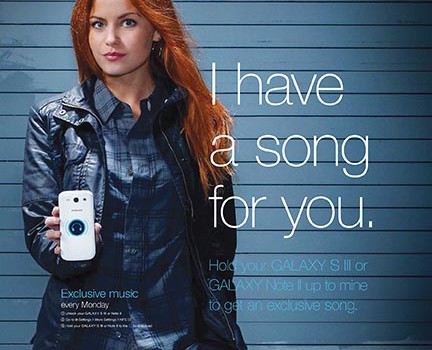 Near field communication (NFC) might be entering 2013 still flying under the radar in terms of mass market reach, but that is set to change. A recent study from Gauge Mobile Solutions says 80% of smartphones in Canada will be NFC enabled by 2016. Currently about 16% of devices in the country can use NFC tags.
A stat from Clear Channel and PosterScope cited in the Gauge Mobile Solutions study says that of 1,000 smartphone owners polled in the U.S. and U.K., 88% said they would consider using NFC to interact with a smartposter that interested them. The top triggers were downloading special offers (85%) or getting location info and directions (84%).
Free stuff is also a good incentive. Samsung Canada recently used NFC to showcase its S beam feature during a launch campaign for the Samsung Galaxy S III and the Note II, which wrapped in January.
Targeting young urban professionals aged 18 to 35, the North America-wide campaign with creative from Cheil and media by Starcom MediaVest used posters with NFC tags, allowing passersby in high traffic areas such as Toronto's Path system and at the Metrotown Mall in Burnaby, B.C. to download an exclusive new tune every week.
Ken Price, director of marketing for mobile communications, Samsung Canada says it's the first time the brand has used NFC. "[The campaign] builds on the idea of the sharing capability of the phone for more than just traditional messaging or social media," he says.
He says the campaign was experimental, adding there are plans to roll out NFC to more locations and promotional uses in the near future. For example, he says the brand had thousands of "tech tiles" with NFC chips on them outside venues in Las Vegas during the recent Consumer Electronics Show (CES) which allowed passersby to scan not only for songs, but also things like directions and product info.
According to the Gauge report, NFC is now mainly used by credit card companies to make mobile payments easier, but Tony Vassiliev, co-founder and CEO, Gauge Mobile Solutions, says NFC has great potential for marketers in OOH, POS or print ads, noting that the technology will allow brands to raise awareness and engage consumers by giving them single-tap access to content, such as ticket purchases or coupons.
One of the bigger barriers to entry for marketers is price, which currently ranges from 25 cents to one dollar per NFC tag, says Vassiliev. He says once the price drops below 10 cents per tag (which he expects to happen by the end of the year), it will be more economical for marketers. He points to experiential events, street-level executions and in-store as areas with big potential.
"In terms of actual chips being used in the day-to-day world, I see them being used a lot in packaging," he says. "Instead of a QR code you will be able to tap your phone against the product and find out more information."