Creative Report Card: Agency winner
Mastery of film propelled BBDO to top spot.
In 2011, we watched as BBDO made a clean sweep of awards in digital (namely for its wacky touchable Skittles videos) and it appears the agency has done it again. Only this time, its winning streak was in film. Over the past year, the Toronto shop demonstrated its mastery of the moving picture by creating commanding, brand-building television spots that won international and national accolades galore.
"In a world where everyone is searching for new media expressions, you can't forget that TV is a way that most will engage with a brand," says Peter Ignazi, VP and ECD, BBDO. "We have never forgotten that, even as we have won Media Lions and Cyber Lions."
It was in New York at the One Show and in London at D&AD where the top agency in strategy's Creative Report Card was applauded for a commercial that helped launch Shaw Communications' Exo television network. The "Car Chase" spot brought the network to life by (literally) putting people in the middle of the action – subscribers to the network were shown sitting atop a vehicle in a high-speed car chase, where they watched the scene unfold through a TV frame.
Carlos Moreno, VP and ECD at the agency, admits that the message of "bringing the experience of entertainment to life in a new way" was not the most ground-breaking. "But it was executed in a way that has never been done before, putting people in a space that's dangerous and exciting and giving them the feeling of watching TV on the system," he adds. Results showed a successful launch, with category recall at 7% after two months in market, compared to 5% for a 21-month-old competitor's campaign. Ignazi explains that using film for the launch of the service worked for Shaw because it "is a brand that lives naturally on television, and the medium is a part of the brand itself."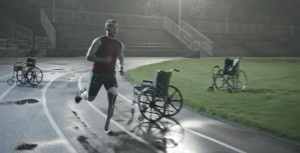 In Cannes, the agency won a Bronze Film Lion for its "Unstoppable" commercials for the Canadian Paralympic Committee. In an eloquent one-shot dramatization of the enduring spirit of Paralympic athletes, the 30- and 60-second spots show a man who lost his leg in a car accident running past the challenges of recuperating (being confined to a wheelchair and training to walk again) in order to compete in the games.

"The spot had a dual effect. One, it celebrated the athletes, and two it got people pumped up for the Paralympics," says Ignazi, adding that 41% of CBC polled viewers said they would watch the games after being exposed to the campaign and close to 400 media outlets (at press time) picked up the spot, subsequently generating over 92 million impressions.
"There's no secret process to making a great piece of commercial film," adds Ignazi. "It's about telling a great story well. That really hasn't changed in the last 60 years, and it never will change. You could have an announcer tell a straight story of [what] Paralympians have to go through to get where they are, or you could show one running and heroically putting it all behind him."