Creative Report Card: Brand winner
P&G breaks from tradition to nab top honours.
"In lab tests, Bounty absorbs twice as much as the bargain brand." That line (or something similar) has long been standard in creative for paper towels and other household cleaning goods, complete with a split television screen or magazine page showing the brand-name paper towel predictably enjoying more success. It's the type of direct comparison aimed at moms P&G broke away from this year in a series of award-winning campaigns that helped it win top brand in strategy's 2013 Creative Report Card.
Bounty's "Picks it up" campaign by Leo Burnett won Silver, Bronze and five merits in various categories at the One Show. It featured striking OOH images of a single paper towel soaking up a meal's worth of spill. P&G's Bounce, known for creative comparing the clothing on people who did and didn't use fabric softner, also enjoyed award-circuit success with its "Pet Hair Repellent" campaign (also by Leo Burnett), picking up three Bronze at the Marketing Awards.
The most striking departure was the LIAA Bronze-winning "Dig It! Get It!" campaign Leo Burnett worked on for Cheer. P&G wanted to introduce the brand to a younger demo, so it partnered with band Strange Talk to create an interactive music video. People could click on different products they liked and have an opportunity to win them, along with a sample of Cheer.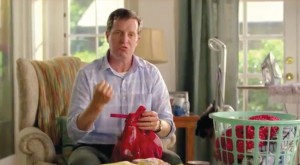 And last year, for the first time, P&G's Tide television commercials featured a man doing laundry. The spots showed a self-proclaimed stay-at-home dad proudly folding clothes. It was hailed as seminal (and overdue) in the advertising community, but the shift merely reflects the brand's response to its changing consumer profile. The CPG company also debuted foolproof items like Tide's Pod packets, which contain a pre-selected dose of detergent. The pods have been a smash success, with the brand predicting first-year sales of close to half-a-billion dollars in North America.

"We make these innovations relevant by being in touch with our consumers – who they are; how they perform their everyday tasks. We continue to innovate through new initiatives such as Tide Pods, advertising that speaks to dads as well as moms, and campaigns edgy enough to be distinctive, yet rooted in insights that are meaningful," says Saquib Vali, associate marketing director, household care, P&G Canada.

The moves reflect society. Last year, Statistics Canada reported that women born between 1957 and 1966 spent 1.2 more hours a day on housework than their male partners while in their 20′s. For couples born between 1981 and 1990, that gap narrowed to 0.4 hours per day.

P&G has also manned-up around other household cleaning brands. Swiffer mops are being pushed with a U.S. campaign titled "Man Up, Clean Up," while Bounce spawned a fabric softening bar that stays in the dryer for months without needing to be replaced. Such products are also aimed at college students and singles who don't have a lot of time to spend on chores or expertise in housekeeping.

Toronto-based consultant Glen Hunt, who worked with various CPG brands during his tenure as ECD at Dentsu Canada, says Canadian males are, on average, 31 years old when they get married and likely know how to do laundry. Add in the fact that Canadian women enjoy one of the highest employment rates in the industrialized world and the shift in Tide's targeting makes sense. "It really helps to change the gender stereotypes," he says. "It says you can be a guy and still do laundry."