H&M completes the clothing loop
The retailer will recycle donated clothes as second hand offerings.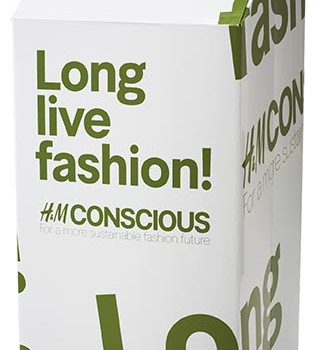 H&M is thinking and acting globally nowadays, launching a garment collecting initiative in 48 markets worldwide. The retailer is inviting shoppers to donate unwanted clothing (from any brand, in any condition) to H&M stores where they will later be reprocessed (re-used as second hand clothing or recycled into other goods) by I:Collect. In return, for every grocery- to garbage-bag size of clothing dropped in bins at cashiers, H&M shoppers will be given $5 off their next $30 purchase.

Admittedly, other retailers have similarly recycled second-hand clothing in stores – Marks & Spencer launched a "schwopping" program where U.K. shoppers were asked to give back an item of used clothing for every purchase they make in the store. However this is the first time a retailer has activated a garment repurposing program on a global scale, says Emily Scarlett, communications, press manager, H&M Canada.

"Sustainability is a shared responsibility for the whole world, not just one country versus another," she adds. "We're a global company and one of the things that we pride ourselves in is that whether you're in a store in Toronto, Paris or Milan, you get the same experience. You see the same advertising, the same clothes. It's important that we maintain that consistency."

Every spring, for the past three years, H&M has revealed a Conscious Collection made entirely of sustainable materials. The full-house line is designed for kids and teens, women and men, and is typically promoted with television spots, out-of-home, magazine and online ads, with this year being the first to feature the garment collection program in the creative.

Prior to the March campaign, H&M stores will display signage for the program, from windows to mirror decals in changing rooms as part of a soft launch, she adds. Creative for all markets will be done in-house at its headquarters in Stockholm, with media handled by MediaCom in Canada.