Editorial: Right smart
Strategy's executive editor on why effectiveness remains undeniably linked to creativity.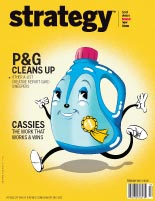 Each year strategy tallies the major global, national and regional advertising award shows and compiles a comprehensive Canadian score card of the brands, agencies and creatives behind the winningest work. And each year the names that come out on top of our Creative Report Card (CRC) have strong overlap with Canada's best ROI-generating work, the CASSIES winners.
Agency of the Year and Digital AOY Bronze-winning Taxi came fifth on the CRC and earned the most CASSIES this year, taking home six awards, including a bittersweet Sustained Success win for its Mini work. John St. had the second biggest CASSIES haul scooping up five, and came ninth on the CRC (which is quite a coup for a single Toronto-office indie), and also won Silver AOY and DAOY. DDB took a Gold and Grand Prix at the CASSIES for its AutoTrader work, won the top nod for both Agency of the Year and Digital AOY (with that case as part of its entry), and came in third on the CRC. Lg2, who came fourth on the CRC this year, is also a double CASSIES winner.
Leo, which is becoming a perennial CRC art & copy rankings topper, took home three CASSIES and the second agency spot on CRC this year, and BBDO, the 2011 AOY Gold Sweeper, took the top CRC agency and CD honors. Cundari rocketed to a sixth place CRC finish, and replicated its Cannes Lions record at CASSIES, taking two Golds plus the Globe and Mail's Creative Effectiveness prize.
All indicating – if there was any lingering doubt – the linkage between creativity and effectiveness. The winners have in common stories of focused purpose, novel insights and completely open minds as to what form solutions might take. Read the cases and liberally apply the learnings.
The Cundari wins for Pain Squad, an app with a team of doctors and scientists from SickKids as clients – winning at both CASSIES and Cannes – is the postercase for new ways creativity and effectiveness are being channeled. I have a hard-to-impress friend from Newfoundland who would describe the gamification solution to getting kids to record their pain as "right smart." And I love that this "right smart" idea from Canada is now making a difference around the world.
Strategy's AToMiC Awards in May and Shopper Innovation Awards in March both focus on innovation and collaboration, often with a tech injection, and we'll be sharing the winning programs to keep triggering ideas.
Working in marketing and advertising has never been more stressful, budgets are under pressure as the volume and complexity of programs expand. That's why taking time to suss out new models, new partners and new M.O.s is both necessary and fascinating.
Happy 2013! It's going to be an interesting year.
Cheers, mm
Mary Maddever, exec editor, strategy, Media in Canada and stimulant
P.S. On the topic of the new creativity, please check out "On the road.." – Ian Mirlin channeling Warhol, Kerouac and Lennon.