The Canadian Breast Cancer Foundation tries something new
Focusing on prevention in a fresh way is the aim of the new multi-platform campaign, which targets women over the age of 40.
The Canadian Breast Cancer Foundation (CBCF) has launched a campaign with a fresh perspective, aiming to get women thinking about the healthy changes they can make to reduce their risk of developing breast cancer.
With creative from creative from Idea Studio and media by Twenty6Two International, all spots in the digital, print and TV-based campaign carry the headline "You don't have to be good to be healthy," says Bruce Sinclair, creative director, Idea Studio, aims to promote trying new healthy behaviours, from surfing to riding a motorcycle, without lecturing the target demographic of women over the age of 40.
"The ways of preventing breast cancer are things that we all have been over-conditioned to hear and are fatigued by, like quitting smoking and losing body weight," he says. "That is why we had a challenge in our head to create a dialogue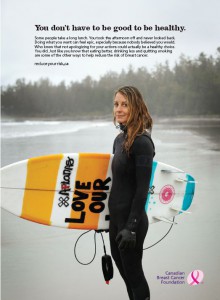 around these healthy behaviours. The strategy stems from the insight that when you try new things and step out of your comfort zone you get an incredible feeling of accomplishment and joy, and when those things happen in your life you tend to make healthier choices as a by-product. We tend to make worse choices when we are feeling bad and better choices when we are feeling good."

The emphasis on prevention comes because though mortality rates of breast cancer have decreased in recent years, incidence rates of contracting it have remained the same, according to Sandra Palmaro, CEO, Canadian Breast Cancer Foundation, Ontario Region in a release.

"One in nine Canadian women will develop breast cancer in her lifetime, and we believe that incidence rates could be reduced by engaging with women about their breast health."

All pieces of the campaign drive to the new website, Reduceyourrisk.ca, which encourages women to post the new things they are trying. Sinclair says the CBCF community manager will post at least two new comfort-zone busting ideas each week.

"We didn't want people to think about quitting smoking or cutting back their drinking because we know those things will come if they start making healthier choices and feeling better. It is a bit of a one-two punch as far as the strategy goes," he says. "The closer you get to the campaign the more you can see the healthier choices that are available."

The  30 and 60-second TV spots will run on channels including CTV, City, CHCH and Global Ontario with print ads running in Canadian Living, Elle Canada, Style At Home, Canadian Gardening and Fresh Juice.