Starbucks promotes its Blonde Roast
The company is doing a rare OOH campaign promoting the lighter blend, along with a contest asking Canadians to rename it.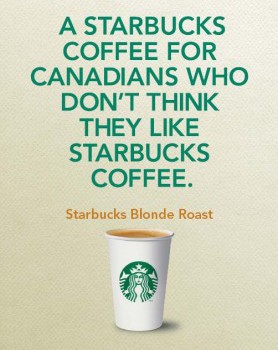 Last year Starbucks introduced its first lighter roast coffee, Starbucks Blonde, a blend that Sharon Smyl, group marketing manager, national, Starbucks Canada, says has performed better in Canada than it has in the US, selling twice as much north of the border than in the US.

To further promote the blend, Starbucks has launched what Smyl says is a rare OOH campaign for the brand in Toronto, Calgary and Vancouver with creative from BBDO and Blast Radius and media by MediaCom Canada.

Smyl says creative in the campaign is designed for impact, with taglines like "A Starbucks coffee for people who don't know they like Starbucks coffee."

Along with the OOH ads, Starbucks has also launched a "Name your Blend" contest that encourages Canadians to submit a new name for the coffee from now until Feb. 10 at Starbucks.ca/blonde. Starbucks Canada will incorporate the new winning name into packaging for the blend, according to a release.

"The OOH advertising touches on the fact that this is a product that Canadians didn't even know that they liked, but they like it," she says. "To take that a step further, we are saying if you like it so much why don't you name it? We want them to have some ownership on it, to become part of Starbucks history."

The contest will be promoted through a national media buy in print, digital and radio, with name submissions being narrowed down to a top three by Starbucks execs and then pitched back to consumers to vote on their favourite online from Feb. 18 to 25. The winner will be announced on Feb. 28, with one Canadian winning a trip to any Starbucks in the country to get coffee with a friend, along with a $500 Starbucks card and $400 spending money. Two runners-up will each get a $1,000 gift card to Starbucks.