Royale partners with retailers for 'Golden Kittens' hunt
The brand gives Canadians a chance to win $50,000 in an in-package contest.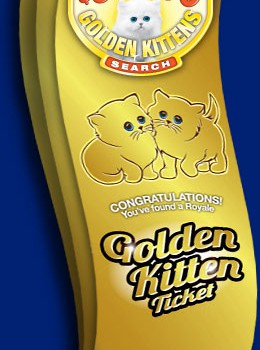 Paper products company Royale, which employed "catvertising" long before it was en vogue, is celebrating its 50th anniversary with an in-package contest called "Search for the Golden Kittens" that offers a grand prize of $50,000. Specially marked tickets are being inserted into random packages of the brand's bathroom tissue, facial tissue, paper towels and napkins.

TV supports the "Golden Kittens" contest, as well as in-store POS displays at retailers across the country. The campaign will also be promoted online as well as in the brand's 200,000-subscriber e-newsletter "Moment with Royale."

Consumers who find the cards (440 tickets are available inside packages and another 60 are available online at the brand's Facebook page and a dedicated microsite) will be entered into a draw. Selected winners will compete in a trivia contest for a pool of prizes worth about $150,000 that tests participants' knowledge of news events over the past 50 years. The trivia portion of the contest is running in partnership with ET Canada.

Royale also partnered with retailers to offer prize giveaways through its products, related to the retailer's loyalty programs. The brand is teaming up with Shoppers Drug Mart, Sobeys, Uniprix, Longo's, Federated Co-op and Canadian Tire as part of that promotion. Royale worked with its AOR, New Brunswick-based Hawk, and Toronto's 6 Degrees on the 50th-year celebrations.

The campaign runs until March 17.