Shopper Innovation Awards: CSR
Purina takes Gold for "Paws for the planet," Loblaw wins Silver for its sustainable seafood initiative and Desjardins wins Bronze for encouraging fiscal responsibility.
GOLD
Nestlé Purina ups its eco-profile
In 2010, Nestlé Purina created a national program called "Paws for the planet" in which the brand donated funds to Evergreen, a national organization that aims to conserve and restore natural landscapes and degraded environments. Since its launch, Purina has contributed over $280,000 to the non-profit.
In 2012, research showed that a strong creative concept was required if the brand was going to get consumers to take more notice of the program. Consumers loved the concept of giving back to the environment, but they also asked, "What's in it for me?"
Working with The Think Tank, Purina introduced an "Eco and pet-friendly backyard makeover" contest to the third edition of its "Paws for the Planet" program, where each unique entry triggered an additional $5 donation to Evergreen (to a maximum of $25,000). Pawsfortheplanet.ca hosted the contest and provided tips for pet owners looking to reduce their pet's eco paw print.
It was supported by 9,300 in-store displays, all created with sustainable certified corrugate, and the program was featured in major retailer flyers as well as OOH. Purina employees and Evergreen volunteers rolled up their sleeves to create a "pet friendly green space" at their non-profit's head office, planting over 250 native plants, shrubs, trees and flowers.
A PR media tour featured Clarine Lee-Macaraig from Evergreen providing eco and pet-friendly backyard tips, and was picked up by CP24, Rogers Daytime Toronto and Daytime Peel. The message generated over 10 million impressions.
The concept proved to be a success, with the microsite receiving more than 44,000 unique visitors and half a million page views. More importantly, Purina hit a donation amount of $75,000 in the first five weeks of the 13-week campaign. The funds helped Evergreen execute programs such as a planting initiative that helped improve the health and quality of York Region's parks, as well as the Austin Drive Park project in Markham, where volunteers removed invasive plants from the area.
Credits:
Client: Nestlé Purina PetCare
Agency: The Think Tank
Trade marketing managers: Ashley Emmett, Anil Rege
Senior account manager: Emily Polson
Account director: Sherri-Anne Jackson
SILVER
Loblaw protects oceans for tomorrow
The world's oceans are a main source of protein for almost a billion people, but today, nearly 80% of the world's fish stocks are either exploited or depleted.
The state of the oceans is not fully understood and sustainable seafood is not high on a customer's priority list when it comes to supporting CSR initiatives, making it a challenge for Loblaw to engage its customers on the topic.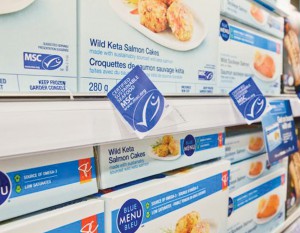 Three years ago, the retailer launched its Oceans for Tomorrow sustainable seafood initiative, with the commitment to source 100% of seafood sold in stores from sustainable sources by the end of 2013. It's been collaborating with the World Wildlife Fund (WWF), the Marine Stewardship Council (MSC) as well as independent marine science advisors, government agencies and seafood vendors.
Previously, the majority of MSC certified products sold in Loblaws stores were private labels. But in late 2012, two key national brand vendors, High Liner and Bento Sushi, came on board with products that showcased the MSC logo on packs. With more items in stores across departments and brands carrying the same clear and consistent MSC message, an opportunity to build a strong consumer awareness campaign presented itself.
Loblaw created a two-week promotional event, supported by flyers, extensive in-store signage and demonstrations (with visits from the High Liner Captain) in over 500 stores, as well as online, PR activations and promotion through NGOs and the retailer brand partners' own channels.
The campaign garnered five million media impressions to date, there was a significant increase in consumer engagement, and sales growth versus last year on MSC certified items was up 35%.
Credits:
Client: Loblaw Companies
Senior director, sustainability: Melanie Agopian
VP sustainable seafood: Paul Uys
SVP corporate affairs: Bob Chant
BRONZE
Desjardins facilitates fiscal responsibility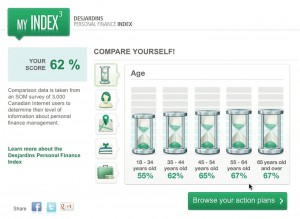 Desjardins created a tool that would help Canadians control their own financial prosperity.

Financial institutions typically focus on education, while the real problem is actually behavioural. So with the help of Lg2, Desjardins created the first-ever Canadian Personal Finance Index – a comprehensive scale that provides an assessment of a person's ability to manage their own finances.

Findings from an online survey of 3,000 respondents pinpointed Canadians' behavioural strengths and weaknesses when it comes to managing their finances. It also delivered findings specific to demographics (age, gender, province, marital status, income), thereby allowing Desjardins to tailor specific tools for each group.

Available online, the self-evaluation tool helped Canadians assess and improve their personal financial management skills, acquire responsible habits and ensure greater and more sustainable financial freedom. One year after its launch, more than 76,000 Canadians had used the tool.

Credits:
Client: Desjardins
Agency: Lg2
Research firm: SOM Marketing
Original idea and strategic planning: Anne-Marie Leclair
Client services: Martine Grégoire, Marie-Josée Bourque