Shopper Innovation Awards: Global adaptation
Dove wins Silver for making real women famous, and Bronze for recruiting real hair stories. Depend also picks up Bronze for getting Canadians to try it on.
SILVER
Dove makes real women famous
Research shows that 70% of girls avoid physical activities because they're self-conscious of how they look. Having a positive role model, like their mom, plays an important role in shaping their self-esteem. With this insight, Dove went out to find eight "Dove Self-Esteem Role Models."
Originally developed in the U.S., the Dove "Women Who Should Be Famous" program was adapted for the Quebec market by Montreal-based agency Bob, and included a new partnership with retailer Jean Coutu. The "Women Who Should Be Famous: Dove Self-Esteem Weeks at Jean Coutu" program launched in two waves.
In the recruitment phase in May, consumers were invited to submit a woman they believed to be inspirational on a microsite. In the reveal phase in September, the brand invited shoppers to the store for a meet-and-greet with the chosen eight.
Dove drove consumers to the website through e-blasts and 225,000 newsletters with an invitation to visit the stores. Dove's self-esteem message also reached Quebecers via radio spots, window posters, displays and danglers in Jean Coutu stores. Around 75,000 booklets were produced with the personal stories from each of the role models and also included coupons for Dove products.
The goal was to drive cross-category purchases at the retailer, while raising awareness of the Dove Self-Esteem Fund in Quebec. Based on results from the first wave, the program exceeded the ROI benchmark. It reached 2.7 million households, with the microsite receiving over 12,900 page views, and 832,000 paid online media impressions were garnered over the two-week period.
Credits:
Client: Unilever Canada
Agency: Bob
Media: Mindshare
Shopper marketing manager: Marie Pierre Mathieu
CDs: Bartolomé Graziana, Daniel Leclerc
CWs: Anne Marie Desbiens, Sophie Bordes
BRONZE
Depend gets Canadians to try it on
About one in 10 Canadians live with bladder control issues, which can leave them feeling embarrassed, self-conscious and frustrated. Kimberly-Clark brand Depend launched its Real Fit for Men and Silhouette for Women absorbent briefs to address this issue.
The idea for the product launch was to destigmatize absorbent underwear by inviting those with and without incontinence to experience the new Depend products for themselves. The launch plan was adapted from the U.S. by OgilvyAction to create a Canadian-specific TV spot, PR and shopper marketing program.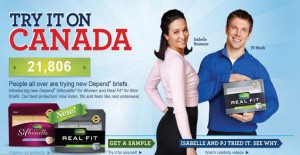 To combat emotional angst, the brand invited Canadians to sample the briefs though a Walmart co-branded custom content article and print in Zoomer magazine. The ads drove trial by offering to send readers a sample when they visited Tryitoncanada.ca and Walmart.ca. This was complemented with online advertising as well as a targeted e-blast that had an average open rate of 28.5% and click-through rate of 6%.
In addition, Depend partnered with Loblaws to send out direct mailers with a coupon for the product, as well as Shoppers Drug Mart to deliver e-blasts highlighting the product to members of its Optimum loyalty program.
The program was supported by actress Lisa Rinna as well as three famous NFL players trying the product out for themselves to demonstrate that it looks and feels just like real underwear.
The campaign was the biggest for Depend Canada, spanning nine months. There has been 9% category growth since launch, and the campaign garnered 33 million media impressions, with 7,000 visits to the Depend site in the first week of launch, and the 30,000 samples ran out in the first six weeks.
Credits:
Client Kimberly-Clark
Agency: OgilvyAction
Brand manager: Paula Montoya
Field shopper marketers: Ian Madeiros, Sheila MacDonald, Emilie Roy
CD: Nuala Byles
Senior ADs: Mike Snjaric, Caroline Brown, Greg Muhlbock
BRONZE
Dove recruits Canadian hair stories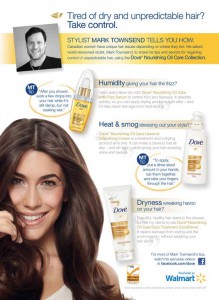 Dove wanted to promote its new Nourishing Oil Care product line locally, but the Unilever brand also wanted to support its international positioning of "Real Beauty by Real Women."

To accomplish both, partner agency Capital C shaped the global positioning to resonate with Canadian women. The brand first created mass market awareness by airing 15-second TV spots, 10-second closed-captioning creative, search, out-of-home, print and editorial content. Dove also partnered with influential bloggers to create written content related to the product and add credibility to the brand.

Online, Canadian women were asked to post their "Hair Challenge" story and a photograph to the Dove Facebook page for the chance to win a hair session with Dove celebrity stylist Mark Townsend. To promote the contest, the brand partnered with morning talk show Breakfast Television, and the content generated by the hair challenge was used to create a series of "How-To" webisodes for the Dove Facebook page and YouTube channel.

As a result, the campaign grew Dove's Facebook page by over 20,000 fans and generated 4.3 million social media impressions overall – surpassing estimates by 400%. Dove's share of voice rose 6.6%, the highest among Dove's competitive set. And Dove's Nourishing Hair Serum became the number one selling hair care product in sales volume for three months at Walmart.

Credits:
Client: Unilever Canada
Creative: Capital C
Digital: Ogilvy
Media: Mindshare
CD: Kjirsten Georgison

OMD was mistakenly credited as the media agency for "Dove recruits Canadian hair stories." The online version has been updated with the correct media agency, Mindshare.