Shopper Innovation Awards: Targeting
McDonald's picks up another Gold, and GoodNites wins Bronze for effectively targeting moms.
GOLD

McDonald's takes on the skeptics
As people become more informed about food production, the new battleground for the QSR industry is the perception of food quality. McDonald's has long been confident in its food, practices and procedures, however consistently low food quality scores revealed that some were not as confident.
The QSR found that food quality advertising actually fuelled negative perception, so McDonald's enlisted Tribal DDB to help target consumers who actively question the provenance and nutritional value of its food.
The only way people would start to listen to McDonald's was if it actively acknowledged consumer concern during the consideration and pre-shop phases of their path to purchase. This insight led to an integrated campaign across web, television, in-store and outdoor that provided shoppers who had questions with unfettered and unfiltered access to the company.
A website allowed Canadians to ask any food-related question they wanted, and received answers within three days. The brand created shareable video responses. "Behind the scenes at a McDonald's photo shoot" achieved 8.1 million views, "What is in the sauce that is in the Big Mac?" garnered 2.5 million YouTube views and "How McDonald's Canada makes their world famous fries" racked up close to 2.1 million at press time.
The brand received more than 18,000 questions, exceeding the campaign target by 600%, and the site generated more than five million Canadian interactions with an average engagement of four minutes, and over 13 million YouTube channel views.
Food quality perception metrics have exceeded all expectations. An independent study showed that the top three measures for food quality perception among the brand's target improved by 70%, 31% and 39%, respectively, translating into increased pre-shop purchase intent. The campaign also saw a startling 48% improvement in overall opinion of McDonald's among lovers, haters and fence-sitters combined.
Credits:
Client: McDonald's
Agency: Tribal DDB
CD: Louis-Philippe Tremblay
Strategists: Jason Chaney, Kevin McHugh
CWs: Ryan Lawrence, Ian McKenzie, Tiffany Chung, Sanya Grujicic
ADs Benson Ngo, Derek Blais, Kara Wark, Amy French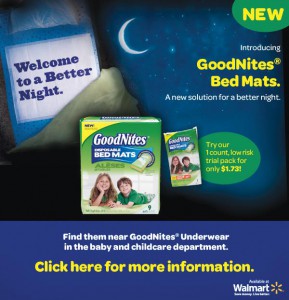 BRONZE

GoodNites tackles bedwetting

GoodNites has a niche target demo – moms struggling to deal with their child wetting the bed after they've stopped wearing diapers and training pants.

Research shows that mothers are opposed to using disposable youth pants as they feel it may be detrimental to a child's self-esteem. This led the Kimberly-Clark brand to develop a Bed Mat that doesn't confine a child and appeals to moms in its ease of being able to simply put down, pick up after a night of bedwetting, toss away and replace.

It was also found that mom isn't necessarily thinking about bedwetting when she's getting ready for a routine shopping trip, or even when she's at the store. And because her child is older now, she rarely goes down the baby care aisle. Working with agency OgilvyAction, GoodNites introduced mom to the product where she is most likely to shop, placing clip strips in relevant Walmart aisles – such as laundry, toilet paper and snack – and inviting her to try the Bed Mats with the promise of a better night.

Also partnering with Shoppers, the brand placed shelf signage, end-aisle displays and clip strips in stores, as well as sent out a Shoppers e-blast that introduced the product and enticed consumers to purchase by offering bonus Optimum points. The campaign was a success, driving incremental category growth for the brand, gaining listings at key retailers and achieving share and volume targets.

Credits:
Client: Kimberly-Clark
Agency: OgilvyAction
Brand manager: Paul Scott
Field shopper marketers: Ian Madeiros, Sheila MacDonald
CD: Nuala Byles
Senior ADs: Mike Snjaric, Caroline Brown, Greg Muhlbock