Remembering Gary Prouk
His former colleagues take a look back at the extraordinary career of a Canadian ad legend.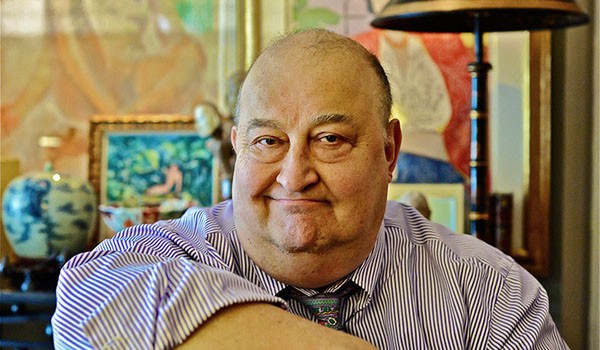 Gary Prouk, a Canadian advertising icon, died on March 7, 2013.
Born in Toronto in 1944, Gary started his illustrious career at McLaren Advertising. Later, he worked with advertising legends such as Bill Bernbach at Doyle Dane Bernbach in New York, and at the age of 26, became creative director for DDB Canada's office in Toronto.
In the late 70s, he became chairman and creative director at the award-winning Scali, McCabe, Sloves (Canada), with Richard Kelly as president.
In the late 70s, he joined Richard Kelly at the award-winning Scali, McCabe, Sloves (Canada).
Among Gary's list of achievements is the hugely successful "Caramilk Secret" campaign for Cadbury. His Caramilk Mona Lisa commercial was inducted in the Hall of Fame of the Clio Awards.
Most recently, he was creative director at Sebastian Consultancy, which he and his wife Susan Andrews founded in 1998. He received more than 500 awards in his lifetime.
Strategy asked Gary's former colleagues to share their thoughts and memories of him.
In their own words
Henry Fiorillo, founder of Research Management Group in Toronto
I first met Gary in April 1977, shortly after Gary and Richard Kelly had formed Scali, McCabe, Sloves and had just been awarded the Nabob account. That meeting marked the beginning of a long and productive personal and working friendship with a true creative genius and a real giant of the North American advertising community.
Gary was no ordinary ad man content with pretty pictures or a fancy musical score.
He intuitively understood how businesses worked and what the role of advertising and communications strategies could and should be in building powerful brands.
Gary was a true master of his craft – widely read and powerful in argument. He deeply believed in the creative positions he put forward. Yet Gary respected the need for checking and testing creative with the consumer, and while he did not always embrace a particular ad testing technique, he always acted in a professional manner when the news coming back would require a revision to his work.
Many people might offer the view that Gary could be difficult to work with. I never shared this view. Rather I saw in Gary's defence of a creative position a willingness to challenge and be challenged with the single-minded goal of making the creative product stronger.
Over the years we worked together – many so memorable they still resonate in my mind – perhaps the greatest was Scali's smash and grab in the Ontario ground coffee market where Gary's work helped Hugo Powell and his Nabob raiders from Western Canada topple Maxwell House's stranglehold in the toughest coffee market in the country. All in less than 18 months.
Space doesn't permit reprising all the major victories, but successes such as Lactantia Pur Filtre Milk lead to the creation of the first premium segment in the commoditized fluid milk market. Others come to mind, such as Lindt and Sprüngli in chocolates, Ralston in pet foods and too many more to list here. The successes were manifold.
Looking back over 36 years of working together, of friendship built on trust and loyalty, it is hard to say goodbye to this amazing man.
Caterina (Katie) Salvatori, associate at Sebastian Consultancy
 I am in the business today because of two people, Susan Andrews and Gary Prouk, and I feel very grateful to have learned from the best of the best.
Over the last 11 years, I have worked with both Gary and Sue at The Sebastian Consultancy. The agency was intimate and we truly functioned as a team. When you work that closely with people, they become much more than co-workers, they become friends, and to me they are like family.
I enjoyed listening to Gary's stories – some of which seemed too outrageous to be true – of the "Mad Men" times in his advertising career. I enjoyed his humour, and the way he could use a few words to sum up a complete, totally right-on thought or opinion. I learned that less was more, and I will continually try to master how to do this myself.
My fondest memories of Gary reach far beyond his advertising credentials. Gary was a kind, generous man with an enormous heart. I enjoyed learning from him, from his vast knowledge of literature, art, design, wine and flowers (to name a few). We exchanged pictures of our gardens every spring and summer season. His garden was exquisite and I can only hope that one day I will have a garden like his.
Gary lived by the words of Oscar Wilde: "Be yourself, everyone else is already taken." So true.
There was no one like Gary and I will miss him dearly.
Peter Holmes, CEO and creative director, Reason Partners
I first met Gary when he tried to recruit me to Lowe SMS a year before he left.
Previously, I knew of him as a real-life advertising legend. But what I came to know about him was far more human.
After he left his former agency, we joined forces for a time, threatening to open a new agency: Holmes Prouk, or Prouk Holmes, depending on which of us was talking about it.
Many nights were spent coming up with our plan. One night included finishing off one of his prized bottles of Louis XIII Cognac, while he provided stories about Bill Bernbach, Scali, McCabe, Sloves, and the inevitable Oscar Wilde. Gary remains one of the most gifted raconteurs I've ever encountered.
We made some noise with our proposed agency, attracting more than a few big brands to sniff about, not to mention a couple of global holding companies.
After some lengthy discussions, one arrogant holding company chief ended it with: "We don't f*** mosquitoes." This didn't go down well with Gary. But it did inspire some hilarious cursing afterwards.
We mostly lost touch after that.  But he left a lasting impression on my life and work. He was a man of impeccable taste and creativity. He was also very generous. All of which was made more interesting by his razor-sharp wit.