Industry gets social with branded content: BCON Expo
From previewing new shows like The Social to discussing how brands can partner with popular bands, the inaugural event explored the past, present and future of branded content in Canada.
Branded content is an area that has seen exponential growth in recent years, and late last week the Canadian media, advertising and producer communities gathered to discuss and dissect where the space is and where it's going at the first edition of the BCON Expo, hosted by strategy and Playback.
The day kicked off with a keynote from Xavier Kochhar, the SVP and managing partner at Los Angeles-based advisory firm MediaLink, and moderated by Lauren Richards, founder and CEO, Pollin8. Kochhar said in order to get the most from branded content opportunities, producers need to think like media agencies, looking more at the big picture than at one program at a time.
When Richards asked where the space will be going in the future, Kochhar said industry leaders should watch how children use media, because those digital natives will be leading the charge in the not-too-distant future. He noted the oft-mentioned Red Bull's Stratos program, saying the brand made the space jump stunt into "appointment viewing" in a way that was "super on-brand."

Dissecting Canada's Best Beauty Talent and Recipe to Riches:
Sunni Boot, CEO, ZenithOptimedia Canada led the first panel of the day (pictured right), which featured Marie-Josée Lamothe, CMO and CCO L'Oreal Canada and Sean Buckley, CEO, Buck Productions, talking about their work on L'Oreal's Canada's Best Beauty Talent program, as well as Tony Chapman, partner and CEO, Capital C and John Young, managing director, Temple Street Productions, representing their work with Recipe to Riches.
Lamothe said Canada's Best Beauty Talent, which was built out of the brand's sponsorship of Rogers Media's Canada's Got Talent was the company's first foray into branded content. She added the idea about the series, which searched for Canada's next beauty stars through a series of six digital and Rogers on Demand episodes, was meant to create content that was interesting to the community of people who use L'Oreal products, not make the pieces about the products themselves.
Chapman echoed this sentiment, saying "the second a branded content series becomes about a brand, product or company it becomes bad branded content."
When it comes to measuring branded content, there was some discussion on how it should be done. Young said much of what the brands are getting out of branded content isn't easily measured by today's agency standards and Boot said there needs to be more sharing of data in the space to create benchmarks.
"We need to start educating each other in the industry so branded content can become a bigger piece of our portfolio," said Boot.
Lamothe said though you don't always know exactly how every piece of a branded content project (or any campaign) impacts market share, you also have to look at the cost of not being in the space, which she says is huge.
Getting 'Social' with Bell Media:
Bell Media's VP brand partnerships Mary Kreuk began the company's brand content upfront session by explaining its opportunities in this space in terms of its three content buckets: in-house productions, Canadian productions (produced by Canuck indie producers) and branded content planned around U.S. programming on the company's networks.
Bell Media's latest branded content focus will be The Social, a new daily talk show for CTV's daytime schedule.
The Social, to be produced in-house, is hosted by Traci Melchor, Lainey Liu, Cynthia Loyst and Melissa Grelo, and slated to begin shooting this fall.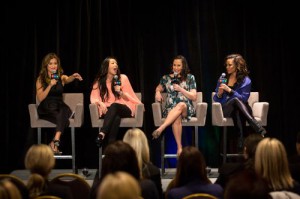 Kreuk told BCON delegates the company is open to a range of brand partnership opportunities, including integrations, custom content and sponsored segments.
Michelle Crespi, Bell Media exec producer, lifestyle content, and exec producer of The Social, explained that the show will aim to fit into the new age of social interaction, where meeting with friends for drinks or a meal also means that everyone at the table has a smartphone or tablet close at hand.
With that in mind, the hosts will regularly interact and engage with viewers via Twitter, Facebook, Instagram and other social media platforms. That could mean checking the buzz on a news headline or gossip item they've just discussed, or asking viewers to post a photograph in response to a question they've asked.
The show will open with Melchor, Liu, Loyst and Grelo discussing the day's headlines, and also include a segment in which the hosts will, for example, try an activity or participate in an event suggested by viewers.
The hosts later launched into an impromptu preview of The Social, including an intense discussion of shared versus separate bank accounts and the downward spiral of young celebrities ( Justin Bieber – brat or baby beefcake?).
Matching brands with bands online:
In one afternoon session, John Petrocelli, co-founder of US -based Bulldog Digital Media and Chris Unwin, founder of social content studio Free Agency (pictured), spoke about how brands can get original branded content online by partnering with musicians.
With consumers today spending more and more time connected on mobile devices and those same consumers able to fast forward through television commercials to get back to their recorded programming, Petrocelli said live digital experiences present unique branding opportunities. Digitally streaming music festivals, in particular, can offer great opportunities for branded content.
Festivals can get between 40 and 60 minutes of average user duration, he said, and with social media living inside of the stream, there are opportunities to provide an interactive experience to keep users engaged and talking about the brand.
"There are up to 150 of these [music] festivals around the [US] and the world, and 146 of them don't have current digital distribution strategies," Petrocelli said. "These festivals sell out before they even announce the lineup, so it's almost like a cultural phenomenon."
Unwin, who moderated the session, noted that companies often complain that artists can be difficult to work with. But Petrocelli said he believes the once frosty relationship between brands and bands had thawed.
"I think [artists'] resistance to working with brands is radically changing," Petrocelli said. "You have Justin Timberlake as an ambassador for Budweiser, Alicia keys with BlackBerry, you see more and more the brand now participates and helps fund the artist's ambitions and endeavours, and it's a whole holistic partnership that breeds success for both sides."
Unwin suggested that brands could have more success working with bands if they started by working with a media partner to build the distribution house for an initiative before reaching out to the artists.
CBC introduces new program:
During its upfront session, the CBC introduced its new branded entertainment development initiative, which aims to develop new daytime programming for the pubcaster. CBC head of factual entertainment Jennifer Dettman said the broadcaster will work in partnership with brands to create the new TV shows.
Creating branded experiences: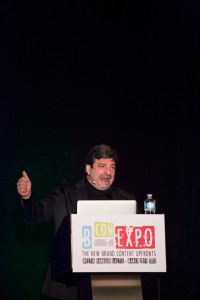 In the day's closing keynote, Barry Krause, founder of Suite, a company that produces original YouTube programming though LiveLab, shared the story of how his company has helped brands establish relationships with consumers through interactive, live experiences.

Krause said this "live social media" enables brands to become media companies.

For example, his company created a lab for Kenmore, a space in a high-energy neighbourhood in Chicago. The space was filled with cameras that stream live shows, such as cooking demonstrations by top chefs, as well as consumer's interactions with products. There are no cash registers in the lab. Krause said the whole idea is to build people's love for the brand.

Strategy checked in with speakers from the day, including Chapman, Lamothe and Dino Demopoulos, VP of innovation and strategy at Tribal DDB about why branded content has grown, and what makes it work.

With files by: Matthew Sylvain, Val Maloney, Danielle Ng See Quan and Matthew Chung

Video by Jennifer Horn, photos by Ryan Walker