It appears 2013 has ignited a change in Doritos. Recently, the PepsiCo brand bid adieu to differing logos (a red and yellow pulse in North America and a blue triangle in the rest of the world), and began rolling out a consistent package design for all its products across 37 markets – starting with its Inferno launch in Canada.
Having tested well in Mexico last year, the brand decided to ship the chip to Canada, along with a program that remaps Doritos' typical path-to-purchase promotion. Since fire symbolizes the spicy Inferno flavour, the brand animated this trait with a microsite that allows visitors to light words on fire. From there, fans can show off their flaming text by posting it as a status on Facebook or as a tweet on Twitter.
Consumers are used to putting on their creative thinking caps for the brand ever since it launched the "Become a Doritos Guru" contest to create a commercial in 2009. Having recycled the contest in various ways over the years — such as the online "Viralocity" program, which had 1,804 consumers submit videos for a product launch, and "The End," which racked in another 30,000 submissions — Doritos decided it was time to evolve from asking its fans to be content creators. Instead, the brand is dabbling with new technology that animates otherwise static social content.
"We're always evolving and looking at different ways for consumers to interact with the brand," says Susan Irving, director of marketing, PepsiCo Canada. "For this, we're reshaping the users' experience, giving them a new technology and leveraging some of the interactions they're already having [online]."
Doritos and its partner agencies Proximity and BBDO didn't cut corners when producing the creative for the tool, filming real fires and explosions to incorporate in the text.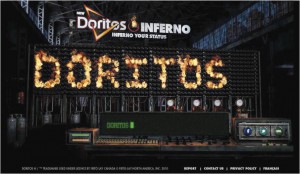 The program for the new product, which landed on shelves in March, also extends beyond the brand's site to other digital platforms and traditional media. Working with OMD, the brand placed banner ads that enable users to share their fiery creations within the ad window, as well as rich media placements that transform a person's mouse icon into a Doritos chip on fire. On television, advisory messages before shows on Comedy, MTV and CTV have been altered to warn viewers of the program's "wicked awesome hot" rating, just like Inferno.
Irving says Doritos programs need to respond to youth expectations for the brand to "be on the cutting edge," which calls for Doritos to be a pioneer in new tech and to create programs that push the boundaries of what's possible, to "stay current and on top of the trends and [therefore] cut through the clutter."
I would love to participate in this promotion because it's different. I definitely think that this makes Doritos stand out. They wipe out the competition by doing daring, exciting promotions."
– Robert, 17
despite it being a great concept, the idea of having an entire post set "on fire" is a little bit too much. had they made an ad where someone could simply type in a word and this would be turned into a short video or a GIF to then be shared on a website, they would have
had me
– Iyngaran, 19