Emergen-C kicks off 'Kapow Time'
The Pfizer brand is using an OOH-heavy campaign to reach consumers in specific situations where they might feel they need a boost.
Pfizer Canada has launched a campaign for vitamin supplement Emergen-C that aims to establish the brand's presence in the Canadian market.
The "Kapow Time" campaign is kicking off with a heavy OOH push in cities including Toronto and Montreal, with wild postings, posters in subway stations and office towers, street dominations and wall murals.
Juniper Park and Headspace Marketing handled the English and French creative, respectively, while MEC handled the media for the campaign.
Targeting adults aged 18 to 45, the brand will also roll out a digital campaign later this month, featuring traditional banner ads and a new microsite.
With a total of 12 different executions, the OOH ads feature taglines like "Chris stayed up past his bedtime. Chris stayed up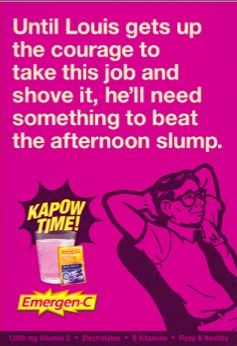 past everyone's bedtime."
Barry Quinn, executive creative director and partner, Juniper Park, says that the strategy behind the campaign is to reach people while they're in specific situations where they might need a boost, for instance, after a hard workout at the gym, or in a crowded subway station full of sick people.
He adds that the aim is to set Emergen-C apart with a colourful, light-hearted tone that focuses on these situations, as opposed to focusing on one or two specific benefits of the product.
The campaign will run throughout 2013.