Evian brings back the babies
The Danone brand is launching yet another baby-centric campaign, this time featuring the dancing infant versions of its adult target.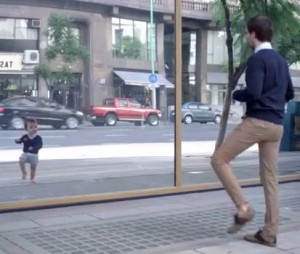 Evian is back with another installment of dancing babies, this time featuring the dancing infant inside every adult with the new "Baby & Me" spot. The campaign is a follow-up to the 2009 "Roller Babies" video and "Baby Inside" from 2011.

Characters in the new video are seen walking through a busy street when they are met with their inner babies in a storefront window. After the initial realization the adults begin to interact with the babies, engaging in a dance-off with themselves, according to a release.

Targeting adults 18 to 34, the campaign primarily lives on digital and mobile in Canada with media by Havas and international creative by BETC France adapted for the Canadian market by Havas. In-store, the campaign includes the spot featured on 100 screens across the brand's top grocery accounts in Canada, the largest execution of this sort for the brand in the country.

Canadian digital pre-roll spots will start later this month on Bell Media, Shaw Media and Yahoo!, with mobile spots on the Juice Mobile network of sites, including TSN and Food Network Canada, says Barak Orenstein, senior brand manager, Evian and Badoit Canada, Danone Waters of America.

The digital and mobile pre-roll buy will run through May, with an app connecting users to the idea of tapping into their inner baby (details on what the app wil actually do are under wraps) launching later this spring.