Next Media Stars: Katey Beaudry crafts a new telco strategy
The communications strategist at M2 Universal was lead on "Don't cut the conversation short" execution using Metro newspaper's Splitter ad unit.
Curiously, if you're a mobile brand, print is often your go-to medium. The advantage of daily transformation means print is heavily used by mobile telcos to get noticed by their typical 18-to-49 target demo. So, pressure is always on to stand out from the pack. Wind Mobile won a round in the battle for attention during the peak Christmas shopping season when it became the first brand to use the Torstar-owned daily newspaper Metro's new Splitter ad unit.
Katey Beaudry, communications strategist, M2 Universal, was the lead on the one-day execution, which cut the centre double-page spread of the free paper in half horizontally.
She says the aim was to illustrate the "Don't cut your conversation short" unlimited phone plan message by literally splitting the page in half upon turning to Wind Mobile's "Chat 'til you drop this holiday" full-page ad.
Being a first-time execution, the biggest issue for the ad, with creative from MacLaren McCann, was making sure everything lined up perfectly before it was cut, says Beaudry.
"We do have a focus in print and newspapers, so you will find Wind Mobile there almost every day during the holiday period," she says. "This was something different from the full- or half-page ads that we telcos had been running."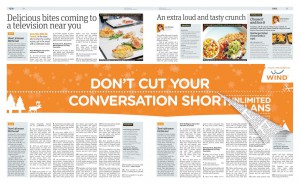 The result was a 36% overall spike in unique visitors to the Wind Mobile website the day it ran, with the brand noting a 9% increase specifically in Toronto traffic. Beaudry says she hopes the ad unit, which is now available in Toronto, Montreal and Vancouver, will soon be an option in Metro newspapers across other markets in the country.
Beaudry started at M2 Universal two years ago after winning a three-month paid internship through the Hugh Dow Award for Media Innovation at Humber College, where she was in the Advertising – Media Sales program.
Advertising appealed to Beaudry mainly because it allowed her to be creative. She made the switch to media after getting a certificate in pre-animation and illustration from Algonquin College in Ottawa. It was a good call, as she was hired as a full-time employee six weeks into the internship, joining the team as a media assistant.
Maggie Fife, director of communications strategies, M2 Universal, says it was clear that Beaudry was going to be successful. "She had a lot of insights into consumer behaviour that ended up being key in larger communication strategies for (then client) GM. She is wise beyond her years, and is very curious and keen."
Beaudry was promoted to communications strategist at the start of 2012, working on Wind Mobile. She's currently taking on a larger role with the client, and planning out this year's set of attention-getting work to launch in the second half of 2013.
Beaudry also took part in the 2013 Canada Young Lions, partnering with former co-worker Michelle Ho, who is now at MEC.