Haagen-Dazs makes big comparisons
The Nestle brand is making itself more visible than it has in recent years, with the introduction of an OOH campaign in Toronto, Montreal and Vancouver.
Nestle is bringing its Häagen-Dazs brand outdoors, promoting the ice cream with its largest Canadian advertising campaign in recent years.
With creative from Publicis and media by ZenithOptimedia, the campaign features OOH ads in the metropolitan areas of Toronto, Montreal and Vancouver with creative that compares Häagen-Dazs to things like the Eiffel Tower or a bed of roses. Taglines in the campaign say things like "The Häagen-Dazs of nightlife" or "The Häagen-Dazs of instant messages," says Carm DaSilva, marketing manager, Häagen-Dazs.
DaSilva says the campaign is targeting the psychographic of consumers who have discerning taste, and is a departure for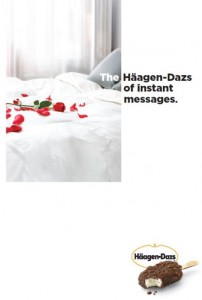 the brand, which has mainly kept a low profile in recent years, communicating largely through print and sponsorships of things like Tennis Canada.

"We thought it was our time to really reclaim our status and we can use the OOH campaign to be a little bold, using clean and simple imagery," she says. "After doing some research we knew that consumers think of Häagen-Dazs as the best, but we wanted to reignite passion around the brand."

The campaign will be in market until the end of July, and will be supported by messaging on the brand's Facebook page as well as through PR events.