AToMiC Awards: Causes use tech to add intimacy
Savvy brands and cause organizations are putting consumers in the shoes of those they're trying to help by using tech in innovative ways.
It's difficult to truly comprehend the suffering of someone with a developmental disorder. No amount of bulletin board pamphlets at community centres can illustrate the sensory overload an autistic person must bear.
Today, technology allows organizations and brands to provide a deeper understanding.
"It's a human truth that we remember and empathize more when we experience something ourselves," says Arthur Fleischmann, CEO at Toronto agency John St. His 17-year-old daughter Carly lives with non-verbal autism. Though she can think and feel the same as any non-autistic person, she battles to communicate and concentrate.
"I hadn't come across anything that really enabled people to experience what autism feels like," Fleischmann says of why he and John St. developed an interactive mini-doc showing what life is like for Carly.
In early 2012, Carly and her father co-authored the book Carly's Voice as a personal diary describing her daily frustrations. A scene with her father and sister at a café has Carly struggling to ask for a cup of coffee, receiving a hot chocolate instead.
The scene was incorporated into a website that mimicked the sensory overload Carly describes in the book by inhibiting a user's control of the site features. The site, "Carly's Café," has since received 50,000 visitors, with an average stay of over two minutes.
Interactive technology enabled the audience to feel empathy for Carly, because they were "physically engaged," Fleischmann says, adding that "a deeper level of engagement can generate a stronger association, greater memory, more shareability and talk value."
Deeper, and more intimate, engagement was precisely what PFLAG (Parents, Families and Friends of Lesbians and Gays) wanted to achieve with its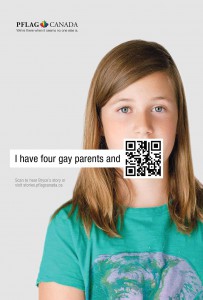 "Stories" campaign.
"[PFLAG] started out with people sharing stories in intimate places like church basements. And mobile, in many ways, can provide that intimacy," says Robin Heisey, CCO at Toronto-based Draftfcb, the ad agency behind the campaign.
The organization muzzled the mouths of individuals on posters with QR codes for people to scan and then watch their stories online. It also partnered with audio identification service Shazam to allow users to listen to the conclusion of stories that were abruptly cut off during radio and TV ads.
"The cliffhangers were public, but the follow-up, the details and the really intimate stuff was delivered via mobile and web," says Heisey.
Provocative dialogue was also tackled in a personal space by the University of Alberta for its Institute for Sexual Minority Studies and Services when it tracked homophobic language expressed online via Twitter.
Nohomophobes.com went live in September of last year with aggregated tweets featuring the words "so gay," "no homo," "faggot" and "dyke" displayed in real-time, acting as a social mirror for frequent and casual anti-gay language. Within the first 24 hours, the site received over 100,000 unique visitors.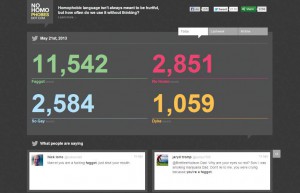 Nicola Pringle, art director at Edmonton-based Calder Bateman Communications – the agency that created the site – says that youth, for the most part, are the biggest offenders in casual homophobia and that they feel comfortable sharing their thoughts and this type of language online.
"Online, people have the freedom to say what they want without regard for the consequences," says Pringle.
Carly's Café, PFLAG's "Stories" campaign and Nohomophobes.com used tech to provide a place for people to judge for themselves what it must be like to be different and to see the consequences of their insensitivity.
The Hardware
Best Broadcast Engagement: Gold – PFLAG "Stories" / Draftfcb
AToMiC Idea: Silver – Carly's Café / John St.
Best Tech Breakthrough: Silver – University of Alberta Nohomophobes.com / Calder Bateman