Exploring ethical sourcing
In light of the April tragedy in Bangladesh, where a factory that produced clothes for Joe Fresh collapsed, a few industry insiders weigh in on whether it's time companies make ethical sourcing a bigger brand priority.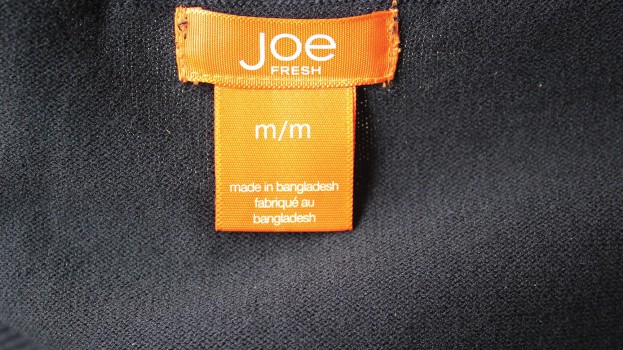 How should brands respond to concerns over ethical sourcing?

"It's an opportunity," says Tony Pigott, global CEO, JWT Ethos, a Toronto-based agency dedicated to social change and corporate social responsibility. Through research, they've found that consumers want brands to be leaders in ethical behavior – be it through eco-friendly lines or ethically-sourced products – but consumer confidence in brands' actions is lacking, he says.

He calls the tragedy in Bangladesh a watershed moment, and in our increasingly transparent world, something brands should be wary of ignoring.

"I think there will be growing consciousness on the part of consumers [about] the implications of their actions, that they're supporting a system or a company by buying its product," adds Andy Macaulay, chairman of Toronto-based agency Union and co-founder of Citizen Capitalism, an online movement that encourages consumers to hold business and governments accountable for their actions. "The reality is that we as customers, investors and employees have the ability to look deeply into the business practices of brands in a way that we didn't 10 years ago."

Because these tragedies occur on the world stage and transparency (whether voluntary or from internet leaks by the likes of hacktivist groups like Anonymous) allows people to peer into the ethical behaviour of brands, consumers will start demanding change with their wallets, Macaulay says.

This opens the door for brands to take a stand and to sort out procurement-line issues through ensuring proper pay and safe working conditions, says Pigott.

How quickly do brands need to act in light of the tragedy?

It's not going to happen overnight, Pigott says. "I don't think it's a case of brands turning around in 48 hours and suddenly changing their whole procurement and supply chain, but [brands can] talk about what they're committed to and eventually find product lines that serve that [ethical procurement function]." So long as the long-term solutions are clearly laid out through a brand promise, which is eventually fulfilled, people will give a company leeway to make organizational changes, he adds.

People are skeptical, of course. The green movement proved that simply calling a product "eco-friendly" didn't actually make it so – so what's to prevent a lot of lip-service to ethically procured products? Tony Chapman, founder and CEO of Toronto agency Capital C, floats the idea of a special designation by an independent third party (which to the best of his knowledge doesn't yet exist), which implies stronger oversight over procurement processes, such as with fair trade or health-check symbols, for the ethically-produced set.

With local food a hot and growing trend, should brands also consider bringing more production home?

Chapman says that would lead to increased costs, and "Made in Canada" isn't magnetic enough to convince consumers to shell out more money for a product they can get elsewhere. The bigger demand, experts say, will be for ethically-sourced products and a safe supply chain, rather than local production.

And it could have a potentially negative effect on other economies, possibly stripping nations of millions of jobs. "The Bangladesh government has emphasized they're terribly concerned there is going to be a flight away from Bangladesh," Pigott says. "I think it's important we do it properly rather than abandon these segments of the economy."

Photos: Joe Fresh were at the centre of the issue after a factory collapsed in April in Bangladesh, and both brands have since signed an accord to protect Bangladeshi workers.

Editor's notes: H&M does not produce garments at the Dhaka Rana Plaza Factory, as indicated earlier in this story. This version has been updated to reflect that. Strategy regrets the error.