The Canadian advantage
Sure, the budgets may be smaller, but marketers working on the Canadian side of multinationals Unilever, PepsiCo and Volkswagen say they relish the challenge to do more with less, which means more freedom to take risks.
The way Sharon MacLeod, VP, marketing at Unilever Canada, remembers it, Dove's "Thought Before Action" campaign came together in a matter of days.
"We met with [ad agency Ogilvy & Mather], they came back with this idea and we just said, 'Oh yeah, that's kind of cool,'" she recalls. "Not long after, we were counting up to a million [YouTube] views."
The campaign began with the idea to create a free downloadable plug-in that reverses the effects of Photoshop and then promote it as a file that beautifies images of models for people in the creative industry to use. It was posted to user-generated site Reddit on a Monday, says Aviva Groll, senior partner and group account director at Ogilvy, and by the end of the week it was getting attention among its target audience, though not many downloads. So Unilever and Dove decided to explain what they'd done through a YouTube video. It went online Monday, March 4, and soon had the attention of bloggers, which contributed to its more than one million hits.
For MacLeod, the way the Photoshop action campaign came together demonstrates the advantages marketers in Canada have over their colleagues in larger international markets. From the ability to make the call to go ahead with the stunt, to the speed at which decisions were made and plans were changed on the fly, MacLeod says, "in a different market [that campaign] would have been really hard to do."
MacLeod often encounters marketers eager to work at the headquarters of global brands such as Unilever, where they're closer to the action and can enjoy working with larger budgets. However, she says people who make the move may find they miss the decision-making power they had in Canada.
"Usually what happens is when they get [to corporate or a larger market] they say, 'This isn't at all what I thought it was going to be,' because they lose autonomy," MacLeod says. "When you know people who work in the U.S. or on global teams in the U.K., you really [see] how restricted they are because they just seem to be under more scrutiny."
Groll says her colleagues at other Ogilvy offices are often amazed at how the Toronto branch is able to quickly push out campaigns some view as risky for Dove. She tells them that in part it's because the agency has "access to the decision-makers and they are empowered to make decisions, so we can do things 100%. We don't have to go up and down the line and through lots of layers."
This past Mother's Day, Dove and Ogilvy pulled off another quick-fire video, this time adapting the "Dove Sketches Real Beauty" global campaign by connecting three Canadian moms with FBI-trained sketch artist Gil Zamora in San Francisco. A video shows the women describing themselves to the artist, accentuating what they see as their physical flaws. What they don't know is that once they're done, their daughters speak with Zamora, emphasizing what they see as their moms' positive attributes, resulting in two markedly different portraits.
In this case, Groll says they originally discussed the possibility of making the video on the Monday before Mother's Day. On Wednesday they learned the sketch artist would be available on Friday, giving the team a day to turn around a video for a Sunday release. After a lot of scrambling, the video was produced and has since been viewed more than 850,000 times.
Having the freedom to do bold campaigns is a perk of leading a regional marketing department in Canada, says Lynne Piette, manager, brand marketing at Volkswagen Canada.
"We are a big enough market that we can try things but we're also small enough that if it doesn't work out, the investment spend isn't as high," Piette says. "If I compare to the United States, if they do a campaign that was successful, it's a higher spend and if it wasn't, then the ROI wasn't there. We are nimble. There are fewer layers of approval, so we can try things faster.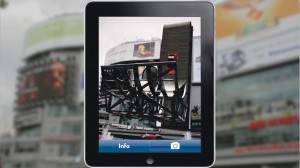 VW Canada, working with Toronto-based agency Red Urban, developed "The Beetle Juiced Up" campaign in late 2011, which utilized augmented reality to allow pedestrians to use their smartphones to enhance  billboards and bus shelter ads. For example, giant billboards at Toronto's Yonge-Dundas Square became a virtual playground for the car, completing stunt jumps on a ramp and leaping through a board toward the viewer. The campaign, which attracted the most online impressions (148 million) in Volkswagen Canada's history, drove awareness both nationally and internationally and was considered for adaptation by the automaker's Japan and Czech Republic branches, Piette says.
Although Canadian marketing departments often have only a fraction of the advertising budgets  their colleagues in the U.S. and elsewhere have, a smaller budget can inspire creativity, Piette says.
"The budget for [Beetle Juiced Up] wasn't huge," she says. "But we made a bigger impact [with] a smaller budget and I think that's the strength we have in the Canadian market that larger markets don't. They are working with larger budgets so they think they can spend up to that much. We are forced to be more creative and come up with better ideas for less money."
Jason McDonell, VP marketing, PepsiCo Foods Canada, knows first-hand the advantages Canadian branches have, having worked for the CPG company for 15 years, seven of which were spent in the U.S., first as director of marketing for Cheetos/Fritos in Plano, Texas, then as VP marketing for the Doritos brand, then VP and general manager of customer strategy for Frito Lay before moving to California to be VP and general manager, PepsiCo, Safeway Customer Team. He returned to Canada in 2011 to take on his current position.
"In Canada, you have the privilege, especially in marketing, of acting locally and thinking globally," he says. "You get flexibility. You have the ability to go after things that are locally relevant and build plans around those and then select those things globally that can make a big impact in Canada."
On the unique-to-Canada front, the marketing team is in the midst of the second year of a locally-conceived, multi-year program, with creative from Toronto-based agency BBDO and digital media handled by OMD, to convince Canadians that chips are the perfect companion for a lunchtime sandwich.
Knowing that Canadians were already pairing the snack with sandwiches at quick service restaurant partners, such as Mr. Sub and Extreme Pita,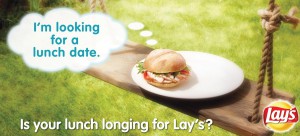 the brand wanted to take that association further, resulting in creative that launched last April focused on a lonely sandwich, with its eventual partner, Lay's chips, only foreshadowed. This year, the creative shows the sandwich daydreaming about all the fun it would have spending time with Lay's chips, building the story closer to the two being united.
"What's good about this campaign is that it's local but it's also a campaign that has the potential of going global," McDonell says. "It hasn't been picked up yet but there has been interest around the world."
PepsiCo Canada also has the advantage of being a "smaller business," with the food and beverages head offices separated by less than one kilometre, allowing for easier collaboration as well as a breadth of experience, says McDonell.
"To work so closely with our beverage partners (in Canada) as well as cross-functionally, for people on my team, it provides a great critical experience set."