Canada gets 11 shortlist mentions on Monday
Lg2 gets the most nods, with two in Outdoor and one in Press. Today's Media, Mobile, Press and Outdoor lists bring Canada's total shortlist count so far to 20.
Monday morning in Cannes saw the announcement of the Outdoor, Media, Mobile and Press shortlists. Canada got 10 mentions overall, with Lg2 leading the way with two in Outdoor and one in Press.
Outdoor

Canada received four mentions in Outdoor, with one for Lg2′s "Tissue" project for Sanofi Consumer Health's Allegra. The project featured wild postings that showed a man using the ad paper as a tissue. Lg2 is also on the list (with three mentions under the same sub-category) for its "Road Safety" work with the Quebec Automobile Insurance Corporation. Posters in the project showed the torso of a driver strapped in with their date of birth on their shirt and a seatbelt covering the year of their death (indicating a long life if they remember to buckle up).
BBDO Toronto is shortlisted for its "Begging Toy Soldier" and "Alcohol Toy Soldier" projects for Wounded Warriors Canada.
Bensimon Byrne is also shortlisted for its work with Paws for the Cause.
Overall, there are 661 shortlisted projects in Outdoor. Canada had 202 entries in Outdoor this year, up from 168 in 2012.
Media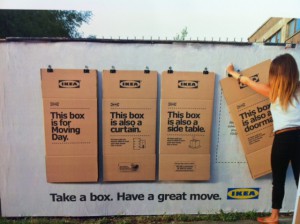 Canada received three shortlist mentions in Media for Leo Burnett's work with Jungle Media for Ikea's "Moving Day" wild postings. That program took home a Bronze Lion last year.
Grey Canada is shortlisted for its work with Diageo's Guinness on "Window Pints." The St. Patrick's Day program used the insight that most office windows have white blinds, adjusting them to a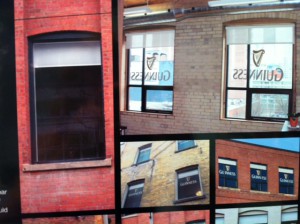 certain height and adding clear Guinness decals to make it look like a pint of beer to passersby.

Touche! PHD is on the shortlist for its "Your Better Starts Here" work with FGL Sports' Sport Chek. The project introduced a new tagline for the brand, targeting 500 locations marking the journey where a quest for a new self began. It was supported by sport specific videos on digital and TV.

Overall there are 257 projects shortlisted in Media. Canada had 94 entries, up from 90 in 2012.

Press 

Canada received two shortlist nods in Press, with Grey Group Canada mentioned for its "Red Riding Hood," "Dodgeball" and "Kinder Egg" work for Moms Demand Action for Gun Sense in America.

Also shortlisted in Press is Lg2 for its "Road Safety" (two mentions under the same sub category) and "Public Service" projects for the Quebec Automobile Insurance Corporation.

Canada had 116 entries into Press this year, up from 66 in 2012.

Mobile

Mobile has two mentions for Canada, with Grey Group Canada getting one for its "Most Valuable Check-In" work with the Missing Children Society of Canada.

Zulu Alpha Kilo is also shortlisted in Mobile for its "Quattro Experience" work for Audi. The project allowed people in downtown Toronto to get the experience of driving a Quattro through a scale model racetrack that asked passersby to grab an iPad and play with the motorized cars.

There are a total 101 shortlisted projects shortlisted in Mobile. Canada entered 25 projects this year, down from 30 in 2012.

Since Sunday, Canada has received 21 shortlist mentions. The first chance for a Lion comes tonight with the Awards ceremony for Direct, PR, Promo & Activation and Creative Effectiveness.