Cannes blog: Solving big challenges with tiny budgets
Young Marketer Steve MacLean, brand manager, Uncle Ben's at Mars Foods Canada, on the most inspiring Media projects at the festival.
This year in addition to the Canadian Gold Globe and Mail Young Marketer team coming to Cannes to compete for the Lion, the Silver and Bronze teams are also here, thanks to sponsors Campbell, Kruger, McDonald's, Maple Leaf, Microsoft, Molson Coors and Nestle. The Young Marketers are curating the best of what they experience and sending the inspiration back to Canada. Steve MacLean, brand manager on Uncle Ben's at Mars Canada goes through the most inspiring Media projects at the festival.
Browsing the short-listed Media work today in Cannes I was blown away by the creativity of two brands who used essentially zero working dollars to successfully deliver on specific business objectives that traditionally command the lion-share of a marketing budget.
Forsman & Bodenfors, Gothenburg Sweden for Volvo: Volvo needed a launch platform for an all-new heavy duty truck, however their truck driving audience doesn't consume media like the masses and is therefore notoriously difficult to reach. The solution was Ebay; Volvo discovered it was a very popular place to browse auto-related parts and accessories among truck drivers and took a simple but bold approach by posting an ad for one of their new trucks with an asking price of just 1 Euro – no reserve. Needless to say, the buzz that followed was worth over 170,000 interactions with their target about the features of the new truck. Volvo, you've inspired me to take calculated risks, especially when uncovering a golden nugget of insight about the target audience!
In case you were wondering, the truck sold on Ebay for twice its market value.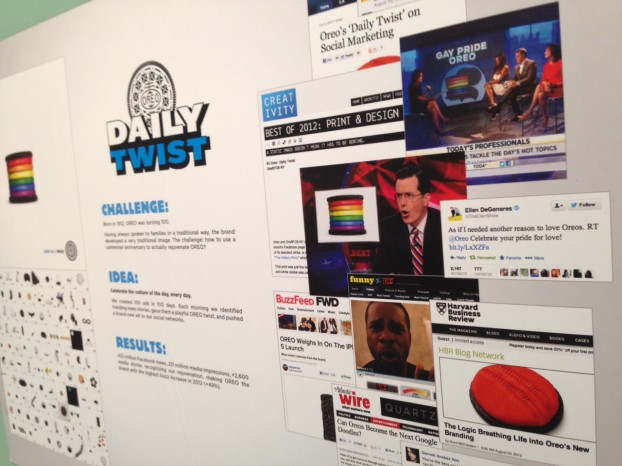 Draftfcb New York for Oreo: Oreo drove millions of earned impressions and became the top brand increasing its buzz (+49%) in 2012 with its "Daily Twist" centennial celebration campaign that lasted 100 days.  Oreo created culturally relevant "ads" every day and tweeted/posted the ad for the world to see. The campaign generated over 2600 news stories across multiple mediums from online blogs to celebrity Twitter feeds and big network news stations.  Highlights of the content include a rainbow cream-filled Oreo celebrating Gay Pride and a timely ad tweeted during the Super Bowl blackout proclaiming "you can still dunk in the dark." I think it's an incredible demonstration of getting social media right – but also a reminder that it takes extreme dedication and coordination of many stakeholders to do it properly.
Being here in Cannes at the epicenter of world-class creative thinking has driven one point home loud and clear for me: if you want to do much, much more with less; direct your dollars first towards the fundamentals of having the right people and environment in place to produce world-class creative thinking.