Tourism showdown: Nova Scotia vs. Newfoundland
We compare the two Maritime provinces' campaigns.
TV viewers who recently caught Nova Scotia Tourism's 2013 "Take Yourself There" campaign by Halifax-based Extreme Group, and who've seen Newfoundland and Labrador's "Find Yourself" spots by St. John's-based Target over the years, could be forgiven if they found some elements a bit similar. Newfoundland's campaign – first launched in 2006 with 16 spots in rotation – has been a success, picking up a slew of awards. Will Nova Scotia's latest effort emulate that success with a similar approach?
YOUNG AT HEART
Newfoundland and Labrador: A spot from 2012 boasts that exploring the sights in Iceberg Alley will make you feel like "you're nine again" while another features a child running to "Mistaken Point," a place with 565-million-year-old fossils trapped in volcanic ash.
Nova Scotia: A spot this year asks the viewer if they "remember what it's like to truly let [themselves] go?" while another juxtaposes a scene of two children jumping in puddles and laughing with that of two women laughing as they're splashed by waves while whale watching.
Nostalgia score: One ice cream cone to Nova Scotia for best childhood memories spots.
EXTREME OOH
Newfoundland and Labrador: The province brought its colourful clothesline concept to Toronto in 2007, erecting a clothesline with white sheets against a scenic backdrop on a billboard near Toronto's Gardiner Expressway with the message: "No. I'd rather sit in traffic."
Nova Scotia: This year, Nova Scotia brought its landmark tourist sight, Peggy's Cove, to Toronto's downtown core, erecting a replica lighthouse.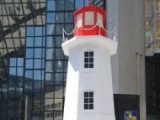 Local flavour score: One box of detergent to Newfoundland and Labrador for clever messaging.

The verdict: the win goes to Newfoundland and Labrador for doing it first, and for having its own time zone.