BBDO, Grip Limited and JWT shortlisted for Saturday's awards
The agencies were mentioned in the Titanium and Integrated, Branded Content & Entertainment as well as the Film Craft categories.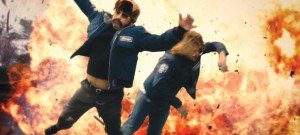 BBDO Toronto has a one out of 30 chance of taking home a coveted Titanium and Integrated Lion on Saturday in Cannes. The agency is the only Canadian shop to be shortlisted for the category.

The agency is nominated for its "Social smoking" campaign, created for the Ministry of Health and Long-Term Care. In three ads produced to discourage people from smoking, even if just in a social setting, people engage in humorous "social farting" scenarios (where passing gas socially is welcomed) and "social nibbling" (where taking food from another diner's plate is common practice) – illustrating that if you smoke with your friends, you're not just a social smoker, you're an actual smoker.

The shortlist for Branded Content & Entertainment was also released, with Grip Limited mentioned twice (under sub-categories Best fictional program, series or film, and Best integrated content) for its "The Movie Out There" campaign for Labatt's Kokanee beer brand. On Wednesday, the Toronto shop snagged a Silver Lion for the campaign that saw the brand, along with its partner Alliance Films, create a full-length motion picture featuring the beer and odd characters. Consumers were invited to lend a hand in creating the film, such as uploading songs for its soundtrack, mailing in props and scouting set locations.

And finally, the Film Craft Lions shortlist included JWT Toronto for its tearjerker spot for Toronto's SickKids Foundation (the agency worked with Partners Film on production). In the commercial, actual patients and medical practitioners are shown singing Roy Orbison's "You Got It" while the doctors perform operations, children wait for MRI scans and families embrace babies in intensive care.

The last set of awards for Cannes Lions 2013, which include the three categories above, in addition to Film, will be handed out on Saturday.