Would you watch your own branded content?
Free Agency's Chris Unwin on why brands need to act like publishers.
By Chris Unwin
When it comes to branded content, companies that lack the courage to prioritize audience entertainment will pay for it.
Literally.
In an attention economy flush with creativity and access, consumers have more entertainment choices than ever before, be it a hit TV show, a 17-year-old's style blog or an Instagram feed. Standing out amongst all the noise is difficult and, to make matters worse for brands, they have the added challenge of converting sales on content while everyone else is solely focused on engaging their following.
Most consumers are indifferent to branded content. Like entering a conversation with someone whom you suspect is going to ask for a favour, consumers see through the thinly-veiled intent. Advertising in sheep's clothing.
It's not just consumers though. The truth is that most boardroom execs wouldn't watch their own projects if they were at home. Naturally, in producing branded content, marketing plan mandates tend to enter into tugs-of-war with entertainment value. This must change as the leverage points on the success of a campaign increasingly rely on audience response.
We need to retrain the muscle memory left over from an interruptive advertising paradigm, where brands paid for all of their impressions, and earned media wasn't a vital key performance indicator. YouTube view counts demonstrate the point: many brand channels are filled with high production value content that yields only a few hundred views. This isn't sustainable.
Compelling branded content is the future of marketing and entertainment, but brands need to act like publishers. Marketers that think like a media company stand to benefit from incremental editorial value through media partners, partnerships instead of endorsements with influencers, earned and shared media impressions via social, and brand affinity from consumers.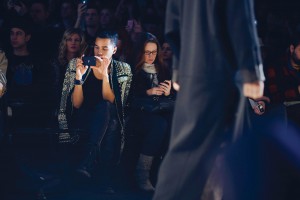 Free Agency recently launched an initiative with BlackBerry and Bell Media specialty channels that demonstrates the opportunity. Live/Work is a web series that profiles cultural leaders – from fashion icon Jeanne Beker and master chef Susur Lee to tech CEOs and style bloggers – and provides insight into their personal and professional success. In sharing these stories, several lessons in crafting engaging branded content were identified:

Connect the deepest brand ideals with emotional needs. The core of the BlackBerry brand drove the web series concept – empowering personal and professional success, an idea universally applicable and emotionally visceral – rather than the BlackBerry device itself.

Put the product in the organic context of the story. Building on the voyeuristic approach to the content, viewers were able to peek into the subjects' lives by browsing through their BlackBerry calendar and to-do list.

Use a broader set of tools to convey the brand. Beyond logos and integration, music, colour palette, font selection and site design were among the ways we showed off BlackBerry.

Collaborate with expert voices, communities and creators. BlackBerry crafted its partnership with Bell Media and various influencers to bring third-party credibility to the project.
Finally, and most importantly, WIWI? "Would I Watch It?" was the phrase used throughout the production process – a way of keeping us "honest" while ensuring that BlackBerry's business objectives were hit.

Now more than ever, consumers look to brands as a voice for culture. Because BlackBerry has a proven track record in helping professionals manage and optimize their hectic lives, the brand's role in commissioning Live/Work brought credibility to the project.

Similarly, consumers look to Urban Outfitters as an authentic voice of youth in the summer (as exhibited with its #EndlessSummer Instagram campaign), and to Coca-Cola as the voice of happiness throughout its long line of outreach.

As publishers, brands have a competitive advantage in a crowded mediascape, but only if they invest in stories that consumers want to hear. Success in branded content will come to companies who view their product and content as a means to higher ideals, like well-being and happiness. More profound than product, future marketing successes will be measured not just on units sold, but also on consumers moved.

Chris Unwin heads  Toronto-based social content studio Free Agency, which helps brands act like publishers and orchestrates collaboration between media companies, brands and leading digital creators to produce compelling entertainment.

Photo: With the Live/Work series, BlackBerry empowered stories of cultural creators, such as style blogger Jay Strut.