What's going on in the basement at Cannes?
Draftfcb's CCO Robin Heisey eschews celeb sessions for some hands-on learning and collaboration in the bunker of the Palais.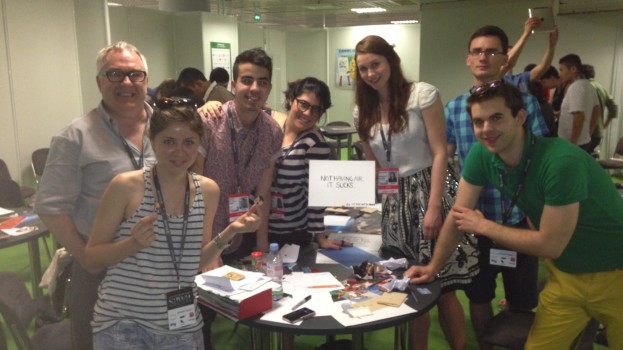 By Robin Heisey

I once heard that when the guitarist Pat Metheny was on tour, he would seek out the best guitar teacher in whatever city he was in and go get a lesson. He didn't do it just to learn new riffs, he did it to work with creative people who had completely different perspectives. Something like that goes on at Cannes every year, without a lot of notice from the industry or the trade press – The Cannes Lions Workshops, held in an out-of-the-way corner in the basement of the Palais.

Cannes Workshop are different from the other seminars in two major respects: they're very small, and they're usually very interactive. Typically you're assigned to small working groups of five or six, and you're given a problem to solve together. Moderators usually insist that people can't work with those they already know, and you will very likely end up collaborating with people from all over the world. Workshops I attended this year included designing for mobile, CGI animation, collaboration skills and "radical listening".

My first workshop of the week was given by Cirkus Animation from New Zealand, called "My Animation Rules". Working with a group from Germany, America, Hungary and China, we had to create a storyboard for a 15 second animated film – about air – that would be fully produced and screened before the end of the festival. The eight storyboards coming out of the workshop were voted on by Cannes attendees, and the finished, winning spot was posted Thursday night. Our spot didn't win, but it was really interesting working so intensely with people with such different perspectives, and watching the story board move through production over the next three days.

On Thursday, we had the HyperIsland "Saving Greece" workshop. HyperIsland is the hot Swedish corporate training company, and I first encountered them at Cannes about 5 years ago in their first workshop here. Their methodology is unusual, and includes a lot of learning from the fields of Behavioural Economics and Psychology. I worked on a brief to "Save Greece" with Rulea from Romania, Ivan from Shanghai, and Donald from Hong Kong. Our solution included crowd-sourcing, social media, marble dust and 3D printing.

Finally, Canada's Nancy Vonk and Janet Kestin, and their company Swim, presented a well-attended workshop entitled "Radical Listening". You might think presenting a workshop on listening skills at the Cannes Festival represents the summit of naiveté, but it was insightful, funny, practical and extremely well received.

I love the Cannes workshops. While there is an undeniable glamour in the marquee seminars – this year we had Lou Reed, Anderson Cooper and P Diddy, among others – I can't help but think that the inspirational experiences people find in them can just as easily be found at Ted Talks online. The big seminars in the Palais are often oversold and many people end up watching them in adjacent theatres, on video screens. The only difference between that experience and watching a TED Talk is that the latter has already passed muster, been curated, rated and earned a reputation for value – with the live seminar, you get what you get.

And one last thing: Perhaps it's because so many of us can become jaded with experience, but the attendees at the workshops represent the youngest demographic at the festival. The people you work with are almost always optimistic, energetic and enthusiastic And while there are a lot of great, experienced people at Cannes, it's rare to find them in that room in the corner of the basement. Then again, a lot of superstar guitar players don't go from city to city looking for guitar teachers.