Fall TV: Content evolution – Stealing the spotlight from network TV
With a lot of buzz-generating content coming from subscription-based and untraditional channels, conventional broadcasters have to fire back with a double-dose of content.
Phil King doesn't stay up at night worrying about zombies and mythical creatures, but the president of CTV programming and sports at Bell Media certainly has the undead and other worldly events on his mind heading into the fall TV season.
Specialty channel AMC's The Walking Dead and subscription-based HBO's fantasy drama Game of Thrones' performances on Sunday nights have made King stand up and take notice.
These shows are making it cool to talk about TV again, which in turn is drawing appointment viewers keen to avoid having an episode ruined by chatter around the proverbial (virtual) water cooler.
But these shows are not on conventional channels. They appear on American stations with ads from the U.S. (AMC), or in the case of HBO and The Movie Network – which airs shows such as dramatic comedy House of Lies – no ads at all. That's not to mention U.S. political drama House of Cards, which was praised by the press, but exclusive to Netflix's online subscribers. And even though these shows don't compete for advertising dollars with  broadcasters such as CTV, they fight for eyeballs, and in some cases, their punches are landing.
"You never used to see a specialty network, outside of sports, pop into [the top 20 in BBM Canada's weekly top 30 ratings]," King says. "That's happening a little more often."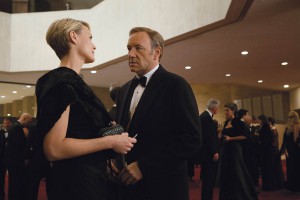 While executives for conventional channels such as Bell Media-owned CTV,  Rogers Media-owned City and Shaw Media-owned Global rightfully point out that their shows are still far ahead in the overall audience race, they are tweaking their schedules in response.
For King, that includes counter-programming against what he calls a "car crash of excellent, buzzy shows at 9 p.m. on a Sunday." (CTV moved Law & Order: SVU over to Sunday at 9 p.m. this fall from its Wednesday night spot on CTV Two to replace the Mob Doctor, which Fox cancelled last season.)
Conventional is also taking a page out of HBO and AMC's playbook with new program formatting not unfamiliar to The Walking Dead fans – airing several episodes split over shorter runs.
"That's what's changed in response to what seems to be where the public is going," King says. "They like these buzzy cable shows that are very complex and they are more enjoyable to watch over a shorter period of time than to try to stretch 10 episodes over 15 weeks. Now they want 10 over 10."
The Following starring Kevin Bacon (which aired on CTV last year in the Monday 9 p.m. time slot) took this approach last season, with 15 consecutive episodes from January to April, a departure from the usual format of 22 original episodes spread over a season with repeats in between. In a first for CTV, spots promoting the drama urged viewers to set their PVRs for the show.
Viewers can expect more networks to stack original episodes together this year, says Malcolm Dunlop, executive VP, television programming at Rogers. For instance, in the U.S., ABC will air Betrayal, a new drama about an affair between a photographer and a lawyer, in the fall with 12 consecutive episodes, and follow that with Resurrection, a fantasy drama about people believed to be dead reappearing, in mid-season. City will broadcast both shows this season, but has not scheduled a slot for Resurrection as yet.
Dunlop says that this "doubling down" on original content is how U.S. networks are responding to what he calls "distractions" in the marketplace. "The networks are saying the only way we can compete is to have compelling programming," he says. "That's why they are investing so much in programming.
"When you see people like Robin Williams coming into comedies [The Crazy Ones, 9 p.m. on Thursdays on City] it's incredible the people who want to do TV now," he adds. "There used to be a stigma about television as opposed to film and now it all sort of crosses each other."
And while conventional networks are restricted in how graphic or explicit shows can be, the U.S. networks are pushing the boundaries with shows like The Following featuring graphic violence.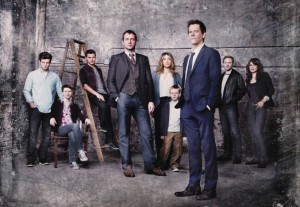 King applauds the U.S. networks' move away from airing re-runs. But he notes that Canadian broadcasters are in a more challenging position to fill the gaps from hit shows taking a hiatus stateside, since Canadian networks may not own the same rights to limited interval series being used to cover the hiatus of a big ratings-earner like Grey's Anatomy. That means they may need to create an original series, as was the case with Global's Bomb Girls – which was intended to be a six-episode miniseries to bridge the gap between two runs of Survivor but found enough success to warrant a second season (though it was not renewed this year) – or they may pick up something else from the U.S.

Dunlop says Rogers also grapples with the issue of scheduling conflicts when buying shows. Some shows are too good to pass up, even if it creates a conflict with a show from a different network, he says. For instance, Crisis – a conspiracy drama about child abduction in Washington, D.C. – and Resurrection are scheduled to air in the U.S. at the same time on Sunday nights during mid-season. Rogers bought the rights to both shows and is deciding how to schedule them in Canada.

"Obviously you want to get a simulcast because you don't want to fragment the audience, but there are certain shows you just have to buy when you see them," says Dunlop.

This push for more original content also means new shows and miniseries will roll out over the summer months, a departure from the old strategy of taking a break when it was assumed people were outside enjoying the weather. That allowed other channels to make inroads into mainstream TV's audience in the first place, King says.

"Conventional TV used to lock the doors in May and say 'we'll see you in September,' which then allowed people to go check out great shows on HBO, AMC and other networks," he says. "That's what got [those networks] going. Now they feel they can wade into the big fall season and go head-to-head, and occasionally, win that time slot."

Barbara Williams, SVP content at Shaw Media, feels many shows getting press attention aren't a threat to conventional TV's dominance of the ratings. There's always been great TV on conventional, she says, but now other platforms can make "big, beautiful, expensive TV."

But conventional still has the biggest shows with the largest audiences, she says. She doesn't expect that to change short-term.

"The shows that seem to be attracting a lot of attention, they are still, at this stage anyway, more buzz than actual impact to audience size," she adds. "We know you hear a lot about Mad Men, Breaking Bad or Girls. We know when you actually look at the number of people watching those shows, they don't hold a candle to good, old NCIS."