McDonald's targets night owls and early birds
The QSR is promoting its new 24HR Snack Tracker site with geo-targeted ads in Western Canada.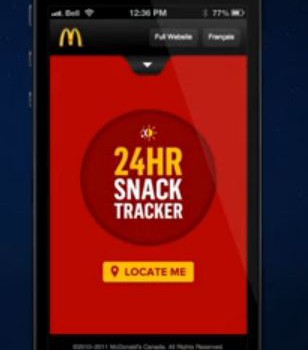 McDonald's Canada is hoping to guide late night and early morning snackers in Western Canada to its locations with the launch of a new 24HR Snack Tracker mobile page.

The location-aware page, created by the QSR with Tribal DDB, tracks users' locations and displays the nearest McDonald's restaurant complete with mapped out directions. It was built with the insight that 90% of visits to the QSR are decided within five minutes of a restaurant and 83% of smartphone users are accessing the web on the go, says Gavin Stafford, senior marketing manager, Western Canada.

With media by OMD, the page is being promoted by geo-targeted mobile ads on Facebook and sites through the Olive Media network that display on users' devices when they are within 5 km of the nearest McDonald's restaurant.

"The strategy has been to reach potential guests through leveraging geo-fencing that served up mobile banners to those who were within a specific geographic radius of one of our restaurants in Western Canada, during the evening and early morning hours," says Stafford. "We also placed an emphasis on Facebook users, particularly with how mobile has been outpacing desktop screens for daily active use on this platform."

The mobile page is currently only available to users in British Columbia, Alberta and Saskatchewan, with the possibility of spreading across the country, depending on consumer response.