Future Shop launches social grants
The retailer's back-to-school program offers up prizes for writing a 140-character essay on Twitter or answering an Instagram pop quiz with the correct photo.
Future Shop is helping students go back to school with more than just supplies. Launched on Friday, Future U is a social media program that dishes out the world's easiest grants for students, says Angus Tucker, ECD, John St., who worked on the campaign.
"Future U is a different way of talking about going back to school," Tucker says. "What does going back to school mean? It's an investment in your future."
The campaign awards high school and university students, with a sweet-spot of 17- to 19-year-olds who participate with the brand over Facebook, Instagram and Twitter.
For the Facebook component of the campaign, kids are invited to audition to win the role of announcer in the retailer's weekly radio promotional spots by recording themselves reading the weekly deal, Tucker says. The winner will walk away with the item being promoted and his or her voice on the airwaves. "The rest of us who don't win are just made acutely aware of the fact that [for example] an Acer laptop is on sale," he says.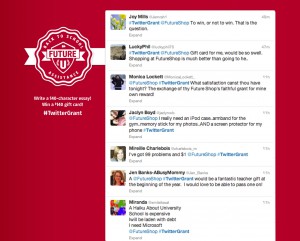 Over Twitter, students are invited to submit (the world's shortest) 140-character essays for an opportunity to win one of many $140 prizes or the chance to win the grand prize of $14,000. Finally, for Instagram (and to a lesser extent over Facebook), leveraging wild postings and in-store signage, participants are asked to snap a photo of the right answer (such as finding the largest screen in a store) for an Intsa-pop quiz.
The social media campaign fit the retailer's budget, Tucker said, but also made sense considering the hyper-social demographic, though parents, the primary purchaser, are the secondary target audience.
"The idea of student assistance is relevant to both for those target groups," he adds. "Obviously students don't have a whole lot of money and need as much assistance as they can, and parents often feel the same way."
The campaign will be supported with a radio and digital media buy by Media Experts, as well as through Future Shop's owned channels, including flyers, emails and Futureshop.ca.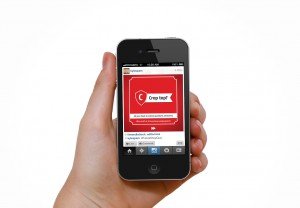 It's a national media buy, with a fairly wide radio net on mainstream channels, such as CHUM and CHFI, with a greater focus on reaching both parents and kids. Digital displays will be more targeted at youth, and will live on channels such as YouTube, Vevo and Msn.ca. Finally, wild posting will be strategically placed in Toronto, Montreal and Vancouver in areas of high student traffic.