Second Cup is brewing up a refresh of its cafés that it says puts coffee back at the forefront of the guest experience.
The Canadian coffee chain, working with Perennial Design, has redesigned one of its downtown Toronto locations, creating a concept café where it will test the impact of new features such as digital signage and a laptop-friendly zone.
The pilot store, which was due for a renovation and is being run by the corporate office (as opposed to a franchisee), reflects the brand's duel goals of being known for superior quality coffee and for being part of the neighbourhood it serves.
CMO Cathy Whelan Molloy says that in the past the franchise put more emphasis on enhancing the café experience for customers, for instance by increasing the seating area, instead of promoting its coffee. For example, the coffee bean bar, where customers can have beans ground and packaged to take home, had been moved to the back in many franchise locations.
"In order to make it comfortable, open and inviting, we were losing some of our coffee credentials," says Whelan Molloy, a 14-year Tim Hortons veteran who was responsible for the brand's creative and strategic brand vision before she left in 2007 for Loblaws.
She started her role at Second Cup in October 2011 and began to spearhead the company's first major redesign since 2005, seeking feedback from customers and franchisees. Guests thought the cafés were warm and inviting but that they were starting to feel dated, Whelan Molloy says.
Within months of her joining as CMO, Tim Hortons and McDonald's both launched their own line of specialty blends, ramping up the competition in an already hotly competitive category. McDonald's also introduced fireplaces and flat-screen TVs to its restaurants.
"We said, 'if everyone's offering pleather and big fireplaces, what do we do to elevate that?'" Whelan Molloy says.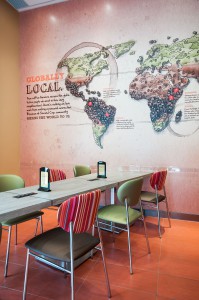 The new vision for the company's 360 cafés is present in the concept store. It is the next phase of the last major redesign started in 2005, she says, which put the emphasis on Second Cup as a "neighbourhood oasis."
That idea continues at the concept store, where an eye-catching exterior sign features the brand's updated logo while touting its King and Bathurst location.
"We'd like to feel like Canada's national chain of independent cafés," says Whelan Molloy. "We want it to feel warm and friendly, want it to feel like you're in a Second Cup when you're in Calgary, but it still feels a little independent."
Large murals inside the store tell the brand's story, with one highlighting the communities that harvest its coffee while another details the coffee-making process – from plant to cup. The company didn't want marketing materials that sounded preachy, Whelan Molloy says, so its facts are presented in a friendly manner. An example from one poster: "We taste test our coffee 112 times before preparing them for you. (Once would probably be enough but they're really, really nice.)" One of five digital displays is dedicated to rotating those facts so customers can read as they wait in line.
The set-up puts the barista at the heart of the shop, with seating available at the counter so guests can interact with the baristas or watch them create latté art. The bean counter is prominently displayed just to the right of the cashiers.
The coffee co has also tried to emphasize the multiple types of coffee on offer, listing them on the digital signage by their roast profile (mild, medium, dark) first to help customers with their choice.
"When you come to a Second Cup, what's different to a Starbucks, Tim Hortons or McDonald's is there can be four to six different coffees on brew at any time," says Whellan Molloy. "That is a big point of difference."
Since it just started testing in July, Whelan Molloy says the company is not committed to exporting the changes to other shops, though she says posters and point-of-purchase material will be rolled out to all of the cafés in the fall. New stores or stores due for renovation could implement certain elements from the concept store, such as the exterior signage, wall murals and furniture.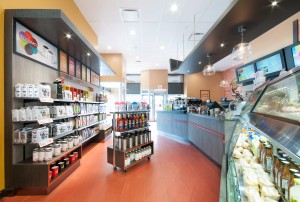 In its 2012 annual report, Second Cup reported marginal growth of 0.4% in system sales while corporate revenue increased to $26,346 from $25,001 in 2011. However, earning per share declined to 42 cents from 64 cents. Commenting on the results, the company said they reflected "continuing intense competitve activity in the coffee category, as well as our continued investments in new initiatives, including a loyalty program, coffee revitalization and a new café design."
The new design is now being tested and the loyalty program, called Perks, recently launched in the greater Calgary area, allowing residents to earn "Beans" with their purchases to put toward a free beverage.
The company also entered into a partnership with Kraft in 2012, to produce, market and sell Second Cup signature coffees for the Tassimo T-Disc beverage system, giving the company a foothold in the fast-growing single-serve coffee business. It says results so far have been encouraging.