Comparing loyalty programs in Canada
Colloquy and Environics have released research and launched an online tool that shows how long it takes to reap rewards from 21 different loyalty programs.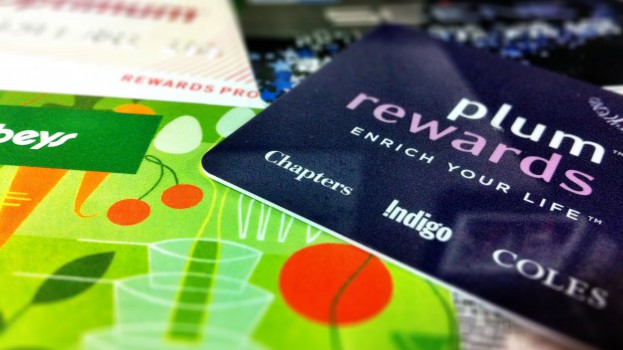 Freebie-loving Canucks are engrossed in loyalty programs (an average of eight loyalty cards sit in their wallets). But do they really know how long it takes to reap the rewards they're promised?

According to research companies Colloquy (which is owned by LoyaltyOne, the organization that operates Air Miles rewards) and Environics, it can take approximately three months to be rewarded $100 worth of short-haul travel from Aeroplan, another six months to pocket the cash equivalent from Shoppers and about nine months to redeem the equal amount in merchandise from Petro-Points.

These "time to reward" stats for 21 different loyalty programs (including Canadian Tire, HBC, Sears and Sobeys) can be found in the companies' latest study which attempts to create an apples-to-apples comparison of Canada's top loyalty programs. The research shows the time it takes to redeem the equivalent of $100 worth of cash, travel and merchandise from different Canadian loyalty programs.

It was created to accompany a new online comparison tool called Compareloyaltyprograms.ca. Using the tool, consumers answer questions that pertain to their spending habits, lifestyle and what kind of rewards they would prefer to receive. The site then calculates which programs are best suited to them and which will provide the fastest return of rewards. Users can access the research report on the site to discover other programs that offer shorter redemption times.

"It's a really great way for consumers to look in-depth at what's available in the marketplace and to be able to look at what potential offerings would benefit them the most," says Robert Stel, senior research associate at Environics.

"The real strength here is the time to reward [metric]. Most of the other comparison tools out there look more at the redemption ratio," he adds. "What we've attempted to do with this research [and tool] is look at it holistically with how each of these cards are being used, how they benefit consumers and what is most important to them."

Ken Wong, marketing professor at Queen's School of Business, who reviewed and approved the research methodology, says the abundance of programs that appeal to a range of lifestyles and reward preferences makes it difficult to choose. He adds that "finding the programs that can get you to the rewards you want, faster, has been challenging until now."

When the Shopper Marketing Report team undertook the survey, Air Miles consistently came out on top, despite attempts to do so otherwise. For example, when asked where we shop the most, choosing "beauty and health etc.," Shoppers Optimum did not come up as a recommended loyalty program.

When asked about the frequency of recommendations, representatives at Environics claimed that the comparison tool, based on third-party unbiased research, is not meant to be a promotional push for the loyalty program.

"The research finds that, in general, coalition programs, like the Air Miles Reward Program, have the fastest time to a travel reward, whereas retailer or bank-issued programs tend to result in the fastest time to cash and merchandise rewards," explains the rep. "While coalition programs don't always perform as strongly in the cash and merchandise reward categories, they do allow members to earn points with hundreds of retail partners as opposed to just one, which can be a valuable feature on its own to a consumer."

To read the full report listing the programs and time to reward, click here.