Global retail tour: surprising store concepts
Influence Marketing's Martin Rydlo and Derek Joynt find crazy store ideas from pop-up malls to fold-away shops.
By Derek Joynt and Martin Rydlo
Strategy invited Influence Marketing partners Martin Rydlo and Derek Joynt to scour the globe for the coolest shopper marketing executions, innovative partnerships and retail trends. This month, they curated some ideas that just might be crazy enough to work.
A pop-up mall
Boxpark is a retail revolution – the world's first pop-up mall.  The first location in Shoreditch, London, England is home to more than sixty carefully chosen fashion, arts and lifestyle brands housed in a thoughtfully arranged collection of shipping crates, replete with walkways, gr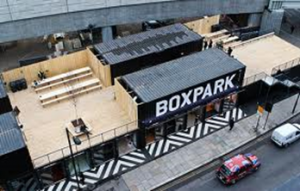 een space and open areas.
Stores make up the base of the mall, while the 20+ crates create a second floor hang-out, which also hosts cultural events like concerts and fashion shows.
The shipping containers allow the mall, which will be around until 2015, to strip and refit stores as needed to keep the shopping experience fresh, vibrant and always changing.
The next location is planned for Amsterdam, which will effectively be a rebuilt Italian piazza (out of shipping crates) in a former ship-building hanger and, like its London location, puts entertainment at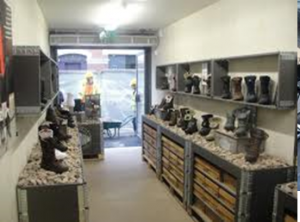 the heart of it all.
Boxpark isn't the first pop-up mall to emerge: Dekalb Market opened its doors as the world's first pop-up mall in Brooklyn in 2011, while  Re:Start, a mall made entirely out of shipping crates down in New Zealand, rose up after the 2011 earthquake, opening in summer of 2012.
Fold-out stores
The Gourmet Tea Shop in Sao Paulo, Brazil wanted to create an environment in a small section of a downtown shopping center. Instead of a regular box store with bland security doors, Gourmet Tea chose to create a transforming store that gets noticed when it's open and closed, with a fold-out store front.
The shop is tiny – only about 10 square feet. When open, it presents a selection of easy-to-shop shelves featuring teas and accessories, all surrounding a small checkout counter. At closing time, it all folds into a "box" with its exterior painted in bright, bold and neon colors, grabbing attention even when tucked away.
Truly at home electronics
New York-based electronics company Savant Systems tried to turn showrooming into an advantage by creating such an amazing experience, shoppers can't help but want the company to install the same environment into their home or office.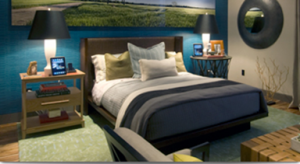 The company designs, develops and manufactures integrated electronic solutions. While that description sounds dull, its showrooms are the exact opposite. It creates beautifully styled living, dining, media, kitchen and bedrooms, immersing shoppers in a realistic, yet aspirational environment, which mashes digital integration with design elegance.
Each environment showcases the ideal integration of cutting-edge audio/video, telephone, digital display, energy management and media.
By giving shoppers an immersive environment in which to touch, see, hear and operate its electronic solutions, Savant has increased conversion for their installations beyond the typical audio-visual test "labs" used by most electronics stores.
Martin Rydlo, former director of marketing at Campbell's where he handled its shopper marketing portfolio, and Derek Joynt, former director of marketing at Walmart, are partners at Influence Marketing Group in Toronto.