Kids + alcohol = book deal
"Reasons Mommy Drinks," a humorous blog by marketer Fiona Stevenson and CD Lyranda Martin-Evans, has been turned into a book, with a print campaign launching in September.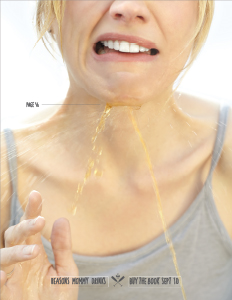 Kids can be exhausting, and in some cases, they can drive you to drink. No one knows this more than new moms, especially two of them who took this idea and turned it into a blog, and now a book.

Fiona Stevenson and Lyranda Martin-Evans, friends since high school, found themselves on maternity leave at the same time in 2011. They struggled to find parenting resources that were insightful but also entertaining, so they decided to create one of their own.

They launched "Reasons Mommy Drinks," (which includes drink recipes) in 2012 and seeded it out to their own networks of new parents.

"The two of us had a power ideation session to come up with a unique concept that could look at some of the struggles of new parenthood in a fun and comedic way," says Stevenson. "We threw out three or four ideas before this one emerged about 15 minutes into our brainstorm and [we knew we'd] stumbled on a big idea."

If that sounds like marketing speak, it's because Stevenson and Martin-Evans know a thing or two about building a brand. Stevenson, a former marketer at P&G, now works as director of innovation at Hotspex, while Martin-Evans is a creative director at KBS+.

The site garnered 20,000 hits within two weeks. Stevenson and Martin-Evans became weekly columnists with Metro and signed an international book deal with Three Rivers Press, a division of Random House New York.

"Although it started as a hobby, it's been impossible not to apply our marketing and advertising backgrounds (and type-A personalities) to the project," Stevenson says. "We've been building a brand, with virtually no budget, for the past two years."

A print campaign, produced by KBS+ will run beginning Sept. 10, with details still being finalized at press time. Stevenson says they also have plans to leverage their relationship with Metro, and will be working with the publicity team at Random House to promote the book.

So next time your toddler insists on listening to the Elmo song for the 500th time, remember there's a drink (and a book) for that.