The future of offices
From telecommuting to co-working, companies such as Unilever, Telus and Coca-Cola are part of a trend in corporate Canada toward creating space-saving workspaces.
Hot desking. Virtual offices. Mobile workforce. Telecommuting. Whatever you call it, there's a trend in corporate Canada towards space-saving workspaces geared to amping up creativity and productivity. As of 2008, one in five Canadians worked from home, according to Statistics Canada, a number that's been rising steadily since 2000.
This summer, Unilever joined Telus and Coca-Cola, sending employees home and introducing  a telecommuting philosophy.
The plan to go mobile stemmed from the company's desire to increase the number of women in the senior ranks, allowing more flexibility as a means of retaining women in their 30s who may otherwise step out of their careers to care for families, says Alison Leung, marketing director, foods at Unilever.
While it makes the transition, Unilever is taking the opportunity to retrofit its downtown Toronto headquarters to boost creativity and collaboration, tearing down walls to create an open workspace.
"A lot of our agencies have gone this way and prefer it," says Leung. "You can just turn around and say, 'I need to solve this problem,' and people are right there."
The new space will include a quiet "library" area, a hair beauty bar and a chef-designed kitchen, says Leung.
The open-concept creative space is backed by research: one University of Michigan study built a 125-foot box out of pipe and cardboard. People sat inside and outside the box and did word association with "tape." Those outside the box came up with a significantly more creative and diverse list of words than those in the box.
Unilever in Toronto isn't going nearly as far as its U.S. or U.K. offices: despite the mobile nature, employees who are in the office four days a week will be assigned a desk, whereas abroad, the company subscribes to a hot-desking policy. Employees "rent" spaces and aren't tied to a specific area within the building.
This practice of booking desks is also on the rise in Canada. Telus, which has been mobile since 2010, uses a hot-desking approach (allowing staff to book a desk at any office in the country, on any floor), which means people from different departments have an opportunity to work alongside each other.
Hot-desking's mix-and-match qualities could lead to greater creativity and problem solving: when people are thrown together in an open-concept space, they're more likely to discuss and chat with people in their immediate vicinity, and people with different backgrounds are more likely to help solve complex problems, according to one Harvard Business Review study.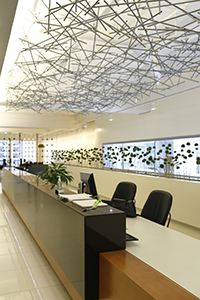 Since Telus' move to mobile, they've seen a year-over-year increase in productivity and engagement scores, says Andrea Goertz, SVP strategic initiatives and chief communications and sustainability officer, Telus. Beyond the benefits of potentially serendipitous hot-desking meetings, the productivity and engagement has been boosted because of the company's flexibility; open areas specifically designed for collaborative, creative work and social networking; and team building spaces, such as collaborative kitchens, she says.

And the hot-desking philosophy continues to evolve. Taking it a step further are co-working spaces, a practice on the rise, with major U.S. companies such as AT&T and PwC trying their hands at renting out workspaces outside their own offices in an effort to save costs and have employees work alongside people in different industries.

Co-working spaces generally come in three models: a public space where anyone can rent a desk (usually for $50 a day to $1,000 a month), privately shared spaces, where a group of different companies pool together, or private to public, in which bigger corporations open their doors to the public. For example, Google in London has a seven-storey building with two floors dedicated to co-working spaces, with the intention of bringing in smart people from outside of the company it may not have otherwise come across, to work alongside its employees.

According to a Deskmag report, 90% of co-workers said they got a boost in self-confidence, while 71% said they felt a boost in creativity since joining a co-working space.

Photos: Telus' lobby (left) is an atrium-style space, while open meeting spaces (top-right) encourage creativity.