The B!G Awards: Grip gives Kokanee the Hollywood North treatment
The agency wins Gold for helping the beer co create a feature film and launch a campaign that boosted brand health, increased market share and exceeded expectations for fan engagement.
GOLD WINNER
The challenge and insight
Despite its relatively modest advertising budget (which has decreased by 70% since 2007), western Canadian beer brand Kokanee has the luxury of a long-running brand narrative and accompanying cast of characters – including its beer-loving Sasquatch and pair of dim-witted
mountain rangers.
But with flat beer sales in the West and high expectations from its younger male audience, the Labatt-owned brand needed a way to improve its relevancy by reintroducing its characters and narrative.
Kokanee approached agency Grip with its entire annual marketing budget and the task of creating a campaign that would genuinely engage its 19- to 29-year-old target to ultimately maintain brand health while stopping its rate of decline.
The B!G idea
In a world where (almost) anyone can be on a reality TV show or net viral fame from a YouTube video, the potential to offer consumers something truly original was a challenge. But there is still one medium that's mostly out of reach for the average person: the movie screen.
The idea was to create a full-length motion picture, made by the brand and its consumers. In early 2012, when the campaign for The Movie Out Here launched, Kokanee invited people to audition for a part in the film – either online or at physical American Idol-style auditions. Consumers could also submit props and ideas for songs to be used in the movie, which they shared on their social networks to garner supporting votes. In addition, each person who participated in the production received a credit at the end.
The brand supported the film with promotional items such as crew T-shirts, collectible glassware and limited edition movie collector cans (mimicking the launch of a Hollywood blockbuster). Once the movie started production, the brand kept fans in the know with online actor diaries and behind-the-scenes footage. Once completed, fans were offered the chance to win tickets to the movie's premiere at the Whistler Film Festival and a second set of limited edition movie cans was released along with an explicit trailer to add more talk value.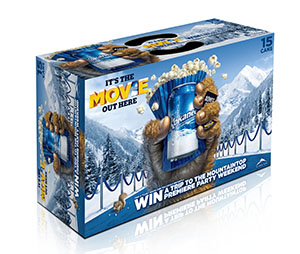 The impact

Brand health scores were above target by 21%, ending five consecutive years of decline. Market share surpassed the target by 6% and fan acquisition and engagement exceeded expectations by 152% and 3,163%, respectively.

The movie premiered last November at the Whistler Film Festival and in Vancouver, the brand's largest market, The Movie Out Here ranked fourth at the box office on opening night, beating out big-budget Hollywood blockbusters such as Lincoln and Les Misérables.

Judges comments

"This was the clear winner for me. It covered all channels,  included consumer engagement every step of the way and went beyond typical advertising tactics." – Jennifer Lightbody, president, Venture Communications

"This campaign takes advertising to an exciting new level. Consumer (and ultimately fan) engagement was brilliantly integrated into the entire campaign" – Gerry Frascione, president and CEO, BBDO North America

Jump to:

Silver winner: OgilvyOne reignites Dove's real beauty convo

Bronze winner: Taxi cooks up a T-shirt line for Boston Pizza