Passat promotes its price
The Volkswagen car says it looks more expensive than it is in its latest campaign.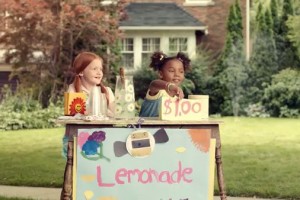 Volkswagen's Passat has traditionally been one of the more expensive cars in its category, but recent redesigns have brought its price tag down without altering its image, according to a new campaign.

With creative from Red Urban and media from MediaCom, the multi-platform campaign is focused primarily around a new TV spot and is supplemented with OOH ads as well as print and digital placements, running in Maclean's, Canadian Business, MoneySense, L'Actualité and Made for Men, says Steve Carli, president, Red Urban.

"The Passat has historically been a more expensive car in the category. We brought the price down in recent years with some redesigned elements but it still has a very premium nature to it with its look and finish" Carli says. "We just wanted to suggest to people that it looks more expensive than it actually is."

Creative in the TV spot shows two girls with a lemonade stand who raise the price of their product when they see a Passat coming to make a purchase. The TV campaign will run nationally for 12 weeks on specialty and conventional channels.