The Government of Thailand promotes authenticity
The Department of Trade has teamed with Canadian Thai restaurants to launch its first mass consumer campaign, with event appearances and an advertorial in Toronto Life.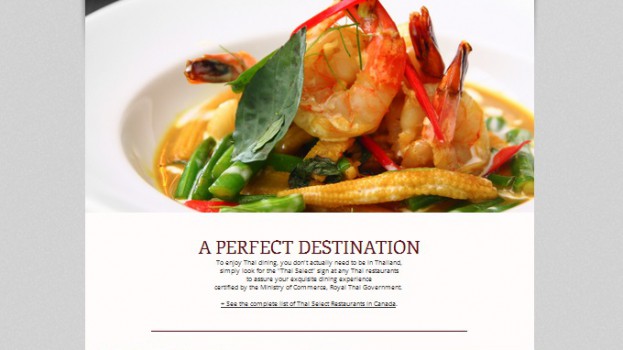 The Thai government is breaking into Canada through partnerships with Canadian Thai restaurants like Toronto's Linda Modern Thai, to help launch its Select Cuisine program.

The Select Cuisine program, part of the government's Kitchen of the World initiative aimed at promoting authentic Thai food, is a designation by the Thai government recognizing the authenticity and level of service of restaurants around the world, based on their use of authentic Thai ingredients and recipes, and the experience of the restaurant's chefs. Linda Modern Thai is the first out of 22 Canadian Thai restaurants to receive this designation.

To help support the launch of the program and drive further awareness of authentic Thai food, the Thai government and Linda Modern Thai have launched a multiplatform campaign aimed at adults aged 25 to 45.

With media and creative handled in-house, the campaign marks the first major mass advertising initiative undertaken by the Thai government in Canada. It relies on print executions in Toronto Life, including a four-page ad in the publication's September issue and an advertorial as well as a dining supplement, in its October issue.

Alan Liu, general manager, Linda Modern Thai, says that the Toronto Life executions are integral, given the publication's authority when it comes to food and culture in the city. He adds, however, that the core of the campaign strategy will be experiential activations, like in-store and festival appearances.

Chef Wing Li of Linda Modern Thai will host an in-store appearance at Toronto-based All the Best Fine Foods, as well as the Savour Stratford Culinary Festival. To help boost their presence at events, the Thai government and Linda Modern Thai have partnered with sponsors like Singha Beer and Thai food company TI Foods, as well as with local wine merchants who will offer a selection of Ontario wines.

The campaign also includes a microsite and Facebook page that serve up information about Thai food and each of the designated restaurants in the Select programs, and offer discount coupons for the restaurants.

Liu says this campaign marks one of the Thai government's first major consumer-focused campaigns, adding the government typically promotes specific products and works on a B2B basis, engaging directly with manufacturers and distributors.

The campaign will be in market until the end of October.